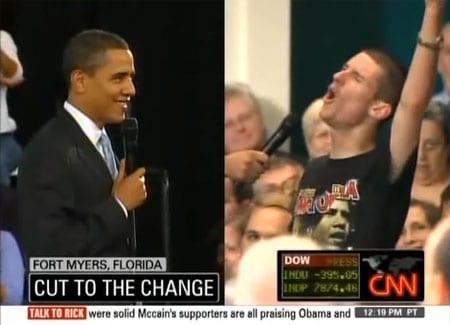 Communications student Julio Osegueda stole the show at Obama's stimulus package campaign in Fort Myers, Florida yesterday when he was picked from dozens to ask the President how the package might help him get more benefits out of his job at McDonald's.
Obama asked Osegueda what he was studying for, and the student replied he wanted to be a broadcaster or a DJ. Hours later, because of the exposure, Osegueda was offered a job by the Class A Fort Myers Miracle baseball team, the Twins' affiliate in the Florida State League.
Said Miracle promotions director Gary Sharp: "I contacted some people who I knew who were at the event, and said 'Find this guy, and get his phone number. I gave [Julio] a call, and he was as excited talking to me as he was talking to the President. I offered Julio the chance to do color commentary during our home opener [on April 10], and he was like 'This is incredible! This is great!' There was no negotiating."
It's that easy.
Watch the clip of Osegueda at the Town Hall, and an interview with Rick Sanchez on CNN, AFTER THE JUMP…