The Navy Times reports on Knights Out, a group of 38 graduates of West Point, who came out of the closet yesterday and offered to serve as liaisons between alumni and Army administrators as "Don't Ask, Don't Tell" is in the process of being repealed as well as a support group for LGBT US Military Academy active duty alumni, cadets, and their families: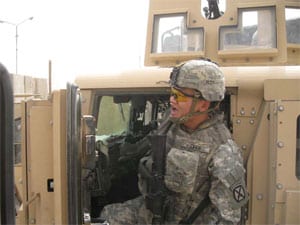 "'We're publicly announcing our sexuality, our orientation,' said 1st
Lt. Dan Choi, a National Guardsman with the 1st Bn., 69th Infantry,
based in Manhattan. 'It's just one part of who we are in saying that we
are standing to be counted.' In forming Knights Out,
its 38 members are following the example of similar support and
education groups formed by graduates of the U.S. Naval Academy and U.S.
Air Force Academy, known respectively as USNA Out and Blue Alliance.
Most if not all of these groups' members also belong to the Service
Academy Gay and Lesbian Alumni social network, a group that Knights Out
claims includes some active-duty commanders serving in Iraq and
Afghanistan. Choi, a Korean by descent, is a combat veteran of
Iraq who graduated from West Point in 2003 with a degree in Arabic
language. He said his unit is aware that he's a homosexual and added, 'I'm very comfortable with all the repercussions right now. To me, it's
about doing the right thing, not about trying to fit into the process
that gets you the rank or prevents you from getting a discharge. If
that's the repercussion, I'm ready to take it,' he said. 'I think it's
more important that I let everybody know that … it is a wrong policy.' Choi
said the group has contacted West Point leadership and gotten "a very
warm response." An academy spokesman couldn't confirm that assertion,
noting that today was the first day of West Point's spring break and
that the campus was nearly empty."
Congrats to them on their powerful show of force.
Knights Out [official site]
West Point Grads Form Gay Support Group [navy times]