Yesterday's Amendment 1 ballot initiative that would have repealed an LGBT anti-discrimination law in Gainesville, Florida was handed a solid defeat by voters, who ignored fear-mongering ads from a "pro-family" group called Citizens for Good Public Policy and turned out in big numbers at the polls.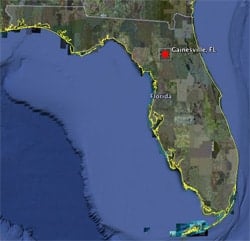 58% voted to keep the ordinance protecting LGBT citizens.
 The Gainesville Sun reports: "Those voting no on Tuesday represents 11,717 voters, compared to the 42 percent who voted for the amendment, or 8,375 votes. Both
numbers are exceptional for a city stand-alone election that had two
City Commission seats and one other amendment on the ballot. It
was roughly 27 percent of the eligible voters compared to the usual
turnout of less than 15 percent for a stand-alone city election."
City Commissioner Craig Lowe, who spearheaded efforts to pass the anti-discrimination statute in 2008, was jubilant following Tueday's vote, according to the paper. Said Lowe: "I love this town. Today we showed what we are really
made of. This has been an experience that none of us has asked for, but
we have established that in Gainesville every person matters."