I was a bit overwhelmed this week by the amount of news about anti-LGBT hate crimes and wasn't able to cover them all in individual posts. So, I put together this round-up of a number of different cases. It's sad and makes me quite angry that there's so much news to cover in this area.

Jurors found Omar Willock guilty of second-degree murder in the 2007 stabbing death of Roberto Duncanson in Brooklyn's Crown Heights: "As observers waited for a verdict on March 17, Omar's father approached
Sterling-Palmer and the two held a quiet, 30-minute-long conversation
about their shared religious views. They agreed that they would pray
for each other's families. Omar had faced two counts of
second-degree murder, one as a hate crime that charged he killed
Duncanson because he was gay. Firetog dismissed the hate crime count. In his closing statement, Jackson cited Omar's repeated use of 'faggot' as the motivation for the killing. Omar will be sentenced on May 5 and faces a minimum sentence of
15-years-to-life and a maximum of 25-years-to-life. The hate crime
count would have increased the minimum to 20-years-to-life. The average
time served for second-degree murder in New York is just under 25
years."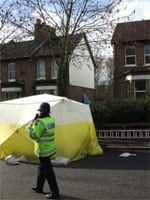 A man who was stabbed in an attack on a London doorstep in which his partner was killed is still critically ill: "Chris Bevan, 56, was stabbed several times on March 3 in Page Heath
Villas during an attack which killed his partner, 59-year-old Gerry
Edwards. More than two weeks after the incident, police have confirmed that
Mr Bevan is still in a critical but stable condition in a south London
hospital with injuries to his internal organs. Investigations into the late night assault suggest it may have been a homophobic attack. News Shopper revealed last week that the couple's two bedroom flat
was gutted by fire while police and forensic teams were still on the
scene. Police have refused to say what caused the fire, although residents
claim it may have started when chemicals used by officers at the crime
scene caught light."

Killer of gay man in Montrose, Colorado in 2005 has sentenced reduced by 10 years: "Montrose County District Judge James Schum cut Fiske's original 22-year
sentence to six years on each charge, to be served consecutively,
leaving Fiske a total of 12 years in prison, minus more than three
years for time served. Hale, 36, died after an altercation with Fiske and Adam Hernandez at a Montrose park. Hale had told police he'd been threatened because he was gay, and his
death sparked fears that he was targeted because of his sexual
orientation. Advocacy groups called for hate-crime charges, but
prosecutors declined to file them."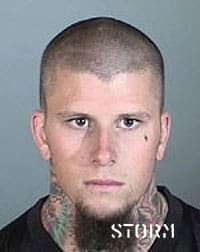 Joseph Storm, who you may remember beat a man who was wearing a "No on Prop 8" button with a "Yes on 8" yard sign in Torrance, California last year, has received his sentence for the anti-gay assault: "As part of a deal with prosecutors, Joseph Storm pleaded no contest on March 3 to one hate crime allegation.
In
exchange for his plea, Storm was ordered by Torrance Superior Court
Judge Steven Van Sicklen to attend classes at the Museum of Tolerance
in Los Angeles and six months of anger management counseling. Storm also received seven days in jail for the time he
already served after the Oct. 26 attack around 2a.m. in the 2000 block
of 230th Street. He will remain on probation for three years and perform more than 100 hours of community service.
According
to Deputy District Attorney Tim Hu, Storm must also write an essay by
Sept. 16 explaining what he's learned from his classes and counseling.
Failure to do so could result in a probation violation, Hu added."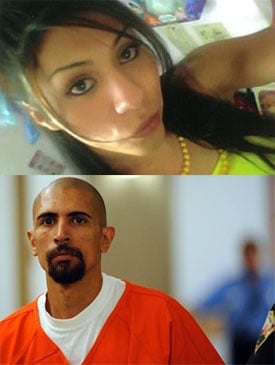 A judge in Colorado tossed part of the confession of Allen Andrade in the murder of transgender woman Angie Zapata in Greeley, Colorado: "It's unclear what Andrade told police during the first 39 minutes of
the interrogation, conducted over two hours after police arrested
Andrade in Thornton driving a car belonging to Zapata's sister almost
two weeks after Zapata's body was discovered. According to a police affidavit cited by the Tribune: "… Andrade told Tharp he met Zapata on the Internet and
that they had arranged a date. The affidavit said he stayed at Zapata's
apartment alone while she went out, and he realized Zapata was a man.
When Zapata returned later, Andrade confronted her about being a man,
eventually hitting her with his fists and knocking her to the ground,
the affidavit stated. Andrade, according to the affidavit, said he then hit Zapata with a
fire extinguisher, and later, when she started to wake up, he hit her
several more times until she died. The judge also ruled prosecutors can't call experts to testify that
Andrade was the member of a gang that routinely punished members — even
killing them — when they engaged in homosexual acts" Meanwhile, both sides in the case are posturing as to whether or not Zapata be referred to as a woman or a man: "The public defenders who are representing the murder suspect, Andrade,
did not return calls, but former Weld District Attorney Al Dominguez
speculated why the defense needs to maintain Zapata was a man. 'It's
my guess that they will be using a heat-of-passion defense,' Dominguez
said, 'in which they have to prove their client killed Zapata because
he was angry when he discovered she was a man. The only way to do that
is to show that the victim was a man who misrepresented himself.'"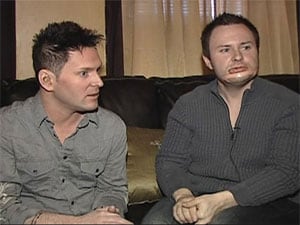 Authorities have not yet decided whether the beating two men received from a group of 15 to 20 youths after a Britney Spears concert in Newark, New Jersey is a hate crime: "Kehoe said the attackers deliberately targeted him and his
partner because they are gay, saying that they repeatedly
used words like 'faggot' during the attack.
Caldwell was taken to University Hospital with his jaw
broken in two spots."

Two men charged for killing of gay man in Jamaica: "It is alleged that Harris made sexual advances towards Gordon, who
told Williams about it. The two reportedly devised a plan where Gordon
would agree to meet with Harris, so they both could 'beat' him. The court was told, however, that on February 23, when all
three met up, Williams reportedly began stabbing Harris. Gordon
reportedly told the police that he took the knife from Williams and
also inflicted injuries."
And finally, this one's not specifically hate crime related, but I've posted about it quite a bit.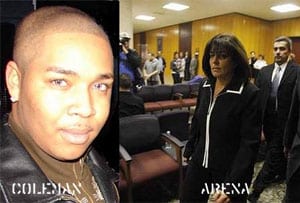 Sandra Arena, who drove her car through a group of people outside a gay bar following an altercation last August in Rochester, was convicted of a lesser homicide charge. Arena ran down 23-year-old Chad Coleman, pinning him under the car: "Monroe County Court Judge Frank P. Geraci Jr. acquitted Arena of
second-degree murder but found her guilty of second-degree manslaughter
in the death of Chad Coleman, 23, on Aug. 13, 2008. Both
charges are felonies with different levels of culpability. The murder
charge alleged that Arena caused Coleman's death while acting with a
depraved state of mind. The manslaughter charge alleged she caused his
death while acting recklessly…Coleman and the four women, two of whom were friends of Arena, were
run down in a parking lot at Alexander Street and Broadway after an
altercation inside Nasty D's Bar & Grill, 140 Alexander St. The
incident occurred after Arena had a confrontation with Dominique
Sablowski, 19, who was upset that Arena was having a relationship with
Bowers, her ex-girlfriend. The two had a previous confrontation at
another bar two weeks earlier. Arena said she left with
Gifford and Dalesandro but was followed by Sablowski and some of her
friends. Sablowksi and a man punched Arena in the face outside her car
before the man grabbed Dalesandro by the hair and began pulling her
away. Arena said she drove toward the group in an effort
to break up the fight. She insisted she wasn't trying to hit the group
and didn't intend to hurt anyone."