The rainbow flag of Mary Shafer, a Bucks County, Pennsylvania woman and her longtime partner Shelly Sickbert, was stolen a month ago. This week they got it back: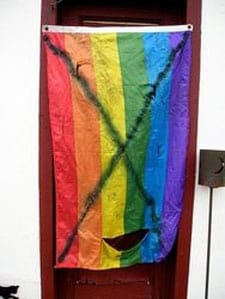 "The Nockamixon resident said her rainbow flag was returned to her home
desecrated…A neighbor
discovered it in Shafer's front yard Sunday, balled up, with a black X
drawn from corner to corner, stab marks and the stench of urine."
PhillyBurbs.com adds: "The 3-by-5 foot flag had been prominently displayed, along with an
American flag, on the front of the Civil War-era home she shares with
her companion, Shelly Sickbert, since they moved in 10 years ago. Shafer is calling it a hate crime. She says she and Sickbert won't be intimidated by the act. 'This is clearly from someone who is very, very angry,' said Shafer. 'I am perceiving this as some kind of threat, as some kind of warning.' … Sgt. Steven Stinsky said state police will investigate and he'd look
to the Bucks County District Attorney's Office for a determination on
whether the incident was a hate crime. 'I've only been here a couple weeks, but this is the first such incident that I've heard of,' he said."
Really, what's the difference between this and drawing a swastika on a Jewish home, or placing a burning cross on the lawn of an African-American home? None, except these women had the added insult of having the item they were threatened with stolen from them first.