Veteran New York radio news reporter George Weber was found stabbed to death in his Brooklyn apartment on Sunday. Police indicated they had a lead that a "male date" may have been involved but little other information was offered: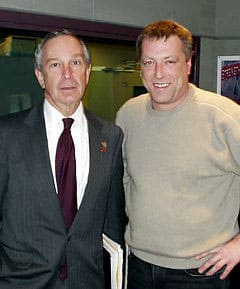 "Weber, 47, was freelancing at ABC's national radio network after being laid off last year. Cops believe Weber was killed Friday evening. He was found in bed with stab wounds in the neck and chest, cops said. Police were investigating the possibility he was killed by a male date. There was no sign of forced entry to his first-floor brownstone apartment on Henry St. in Carroll Gardens, cops said. The front door was locked, but a back door was unlocked. The
apartment had been ransacked, though it was not clear what, if
anything, was taken. The murder weapon was not recovered. Weber would have celebrated his 48th birthday Monday."
Weber (pictured here with NYC Mayor Michael Bloomberg) contributed to a weekly show with the mayor called "Live from City Hall with Mayor Mike and John Gambling". Bloomberg released a statement Sunday: "George was the kind of professional who could give you the news and his views without one
getting in the way of the other. On or off the air, and
especially during our commercial breaks, his views were incisive and insightful. He'll be deeply missed by millions of radio listeners, including me."