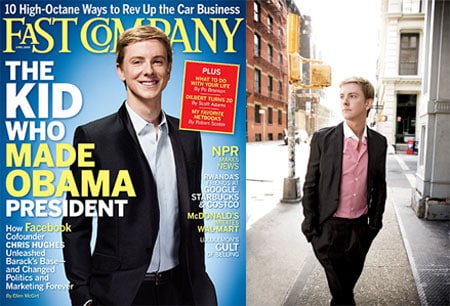 Fast Company runs a cover story on 25-year-old Chris Hughes, the co-founder of Facebook and the whiz kid behind Barack Obama's campaign web strategy (MyBarackObama.com), who also happens to be gay:
"Hughes grew up in Hickory, North Carolina, the only child of older
parents of modest means — his father was a paper salesman; his mother,
a former public-school teacher. Hickory is a deeply conservative slice
of America, and as Hughes entered high school, he decided he wanted
something different. Without his parents' knowledge, he applied to prep
schools, nabbing what he describes as a 'very generous financial-aid
package' from Phillips Academy in Andover, Massachusetts. At boarding
school, he came of age more quickly than he had imagined. Part of that
process was realizing he was gay: 'I went to boarding school Southern,
religious, and straight, and I left boarding school not being at all
religious and not being straight.'"
There's not much more to that angle in the story but it's nice to read publicly that the man behind "two of the most successful startups in modern history" plays for our team.