The Washington Blade posted an article yesterday detailing the compensation paid to leaders of LGBT advocacy groups and AIDS-related service organizations: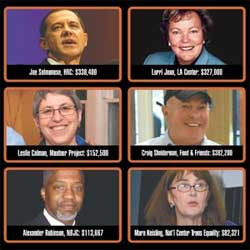 "The 30 national LGBT and AIDS groups are among the thousands of
nonprofit organizations in the United States that must file annual
reports with the IRS disclosing financial information, including the
salaries of their chief operating officers. In conducting the survey, the Blade asked the 30 organizations
to disclose the salaries for their CEOs or executive directors for 2008
— the most recently completed fiscal year — as well as for the current
fiscal year of 2009. The IRS 990 financial disclosure forms for
nonprofit organizations do not become publicly available for two years,
with the 2007 IRS forms being the latest year that the disclosure forms
can be obtained by the press or public"
The Blade notes that 26 groups agreed to provide the salaries for 2008 and 2009. The 4 that declined were Gay Men's Health Crisis of New York City, the LGBT Community Center of New York City, New York's Empire State Pride Agenda,
and the Log Cabin
Republicans.
Wider analysis of the findings at the Blade.