Utah largest consumer of porn in the nation: "Eight of the top 10 pornography consuming states gave their electoral
votes to John McCain in last year's presidential election – Florida and
Hawaii were the exceptions. While six out of the lowest 10 favoured
Barack Obama."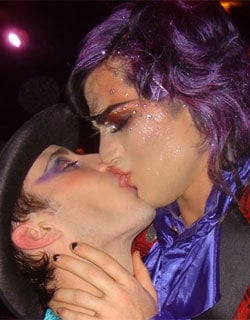 American Idol finalist Adam Lambert's "flamboyant" past, in pictures.

Mayor Dean Grose of Los Alamitos, California, who sent out an email with a photo I posted last week saying that this year's White House Easter Egg roll would instead be a Watermelon Hunt, is resigning: "Grose says he accepts that the e-mail was in poor taste and has
affected his ability to lead the city. Grose said he didn't mean to
offend anyone and claimed he was unaware of the racial stereotype
linking black people with eating watermelons."

Israel debates civil marriages.

International Gay and Lesbian Human Rights Commission demands Peru government investigate attack on trans woman posted to YouTube.

Readings from Bobby Jindal's Exorcism: "The paper is a first person account of how Jindal, a new Catholic
convert at the time, helped get the devil out of his poor, possessed
friend Susan."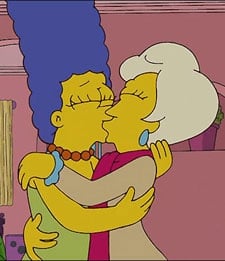 Marge Simpson has her first same-sex smooch.

Californians Against Hate drops boycott of Utah car dealer Ken Garff: "Californians Against
Hate had called for a boycott of Ken Garff Automotive Group's 53
dealerships in six states in retaliation for a $100,000 donation made
by Garff family matriarch Katharine Garff in support of Proposition 8,
California's same-sex marriage ban, part of a total of $3.8 million
donated for and against Prop 8 by Utahns…Fred Karger, director of Californians Against Hate, said Friday the
two-week boycott of Ken Garff Automotive Group was being called off
immediately, following a series of meetings that included face-to-face
discussions between company principals John and Robert Garff and Utah
philanthropist Bruce Bastian, a leading gay-rights advocate."

Kathleen Chalfant and Stephen Spinella to star in Tony Kushner's The Intelligent Homosexual's Guide to Capitalism and Socialism with a Key to the Scriptures, to premiere this spring at the Guthrie in Minneapolis.

CIA under Bush/Cheney destroyed hundreds of videotaped terror interrogations.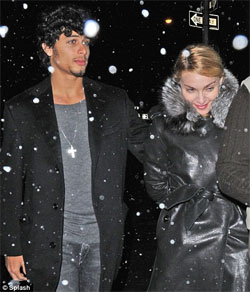 Jesus and Madonna step out in New York snowstorm.

Liberty Counsel files lawsuit demanding Florida Bar remain neutral in same-sex adoption case.

Rihanna and Chris Brown reunite in Miami.

Microsoft apologizes for policies after outrage over suspension of lesbian gamer on Xbox Live: "The company's policy was to disallow any
statement of relationship preference in their profile or Gamertags,
heterosexual, homosexual, or otherwise. However, as Stephen Toulouse,
program manager for policy and enforcement on Xbox Live, told Totilo,
after seeing issues arise like in the cases of Teresa and Mr. Gaywood,
the company was 'looking into that policy.'" 

Academy of Friends holds 29th annual Oscar Party AIDS benefit in San Francisco.

UK teachers face disciplinary action after calling 16-year-old student "gay" and "retard" in the classroom: "He said he felt 'bullied' by the pair during workshops, eventually filing seven official complaints against them. He
now has to travel all the way to Cornwall College Saltash after
enrolling on a construction course focused on bricklaying, plumbing and
electrical installation."