John Katehis pleaded not guilty to second-degree murder and weapons charges in the murder of WABC newsman George Weber, the AP reports: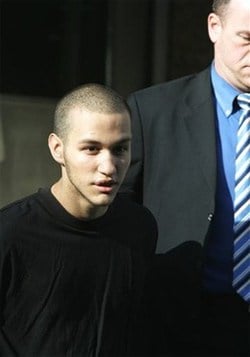 "John Katehis (KAY'-tis) is being held without bail. He was arraigned Wednesday night in Brooklyn. Policesay Katehis told them he was answering an online ad offering $60 forrough sex. The victim, George Weber, was stabbed at least 50 times. Katehis'lawyer, Herbert Moses, says his client was being used by an older man.He says details about their relationship will emerge later."
Details of Katehis' MySpace and YouTube pages surfaced yesterday, revealing him to be a knife-collecting satanist.
The NY Daily News reports: "After the murder Friday, Katehis shed his bloody clothes and fled Weber's pad in some of the victim's duds – only to land in cop custody after a G train conductor spotted his bleeding left hand, Kelly said.Katehis told cops at Elmhurst Hospital Center he cut his hand on a bottle, Kelly said.Weber's body wasn't found until Sunday, so cops had no idea Katehis might be a killer. They let him go and he fled upstate to Middletown in Orange County, hoping to hide out at a friend's house, Kelly said.When cops nabbed him just before midnight Tuesday, Katehis was still dressed in Weber's clothes and carrying a dagger that was not the murder weapon, Kelly said.Katehis admitted stabbing Weber, a longtime WABC reporter, after answering an ad on craigslist looking for rough sex. 'He saw the victim's ad looking for violent sex and said, 'I can smother somebody for $60,' but it got out of hand,' a police source said."
An AP news report on the murder, AFTER THE JUMP…