A constitutional amendment that would have defined marriage as between a man and a woman in West Virginia was defeated along party lines in the House of Delegates Monday: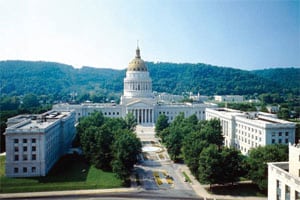 "An evangelical group has pressed lawmakers this session to have marriage defined as between one woman and one man. But the resolution needed to put the issue before voters has stalled in
committee. That prompted Monday's move by Republican delegates to force
it to the full House. Delegates voted 67-30 to reject the attempt. All 29 House Republicans
voted to move the measure out of committee, as did Delegate Tom
Louisos, D-Fayette."
West Virginia's House is considering a bill recently passed by the state senate adding sexual orientation to the state's anti-discrimination laws. Earlier this month organizers launched the state's first LGBT advocacy group, Fairness West Virginia.