Kirby Dick's Outrage hopes to shake anti-gay Republican hypocrisy to its core.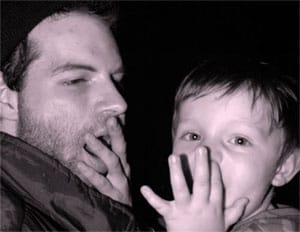 Father and Son: "My life has been redefined by this statistic, 'The odds of getting
pregnant from a one-time sexual encounter are about 11%.' I often think
if it can happen, yes, it will happen to me. Now, I'm a single gay dad
under thirty, that didn't adopt, didn't get married and isn't bisexual,
and inadvertently ends up with a best friend getting pregnant from the
solitary experience."

The #1 male Barbie of Scotland.

Not a clue: "Here is another great moment in A.P. history. In its quest to become the RIAA of the newspaper industry, the A.P.'s executives and lawyers are beginning to match their counterparts in the music industry for cluelessness. A country radio station in Tennessee, WTNQ-FM, received a cease-and-desist letter from an A.P. vice president of affiliate relations for posting videos from the A.P.'s official Youtube channel on its Website."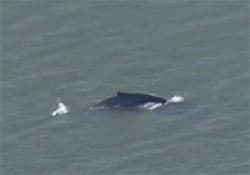 Humpback whale spotted in Hudson River near Manhattan.

Madonna donates $500,000 to Italian earthquake victims.

Speculation over a city council run for openly gay Fox 2 anchorman Charles Pugh has Detroit buzzing.

New Hampshire House passes anti-discrimination bill extending protections to transgender persons,
by one vote: "The House debated more than three hours before voting
188-187 to send it to the Senate. Republicans call it the 'bathroom
bill' based on the argument it would open all bathrooms to both men and
women."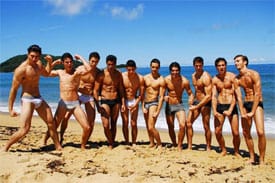 Anybody need a Brazilian?

Napa's neighbor Yountville, California passes resolution opposing discrimination of any kind, including the prohibition of same-sex marriage.

Tell your Coming Out story to Showtime.

Bono checks for crabs.

Ken Blackwell and Christopher Hitchens spar over the end of Christianity in America.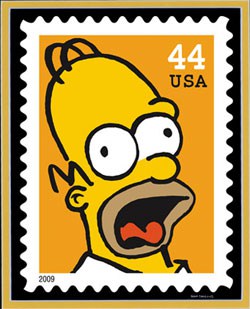 The Simpsons to get their own postage stamps.

Polish sausage bitten off: "Horrified Marian Milczarek, 53, from Lesna in south west Poland, was
attacked following a row with his friend – apparently over borrowing a
trailer. 'He began hitting me with a chain and then pulled down my trousers and started biting. It was agony,' he said. Police and medics could find no trace of Marian's missing genitalia,
and believe his attacker Wojciech Sowinski – now facing 10 years in
jail – may have eaten it. 'If we'd had the other bit of his penis we
could have sewn it back on,' said Dr Adam Domanasiewicz from the
hospital in nearby Trzebnica, where Marian is recovering."

Stonewall Library & Archives to have grand opening in Fort Lauderdale on April 23.
you may remember that moving SLA to this new space became a national
story during the anti-gay campaign of Fort Lauderdale's former mayor,
who opposed a city building, which is leased by Broward County,
providing space to the library. The move required the approval of the
Fort Lauderdale City Commission and the Broward County Commission.