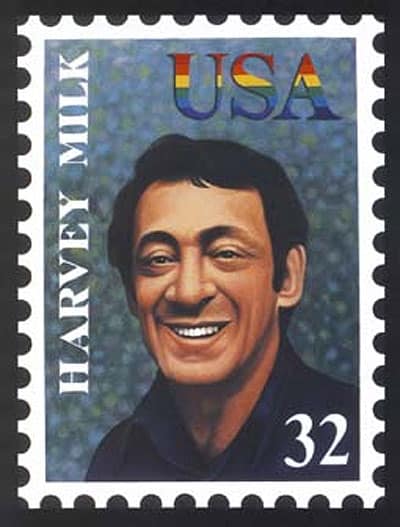 The Bay Area Reporter on efforts to have a postage stamp issued featuring artist Jim Leff's portrait of Harvey Milk:
"Daniel Drent, an openly gay man who lives in Cincinnati, is
coordinating the effort to convince the U.S. Postal Service's Citizens' Stamp
Advisory Committee to issue a Milk stamp. He would like to have approval of the
stamp to coincide with what would have been Milk's 80th birthday on May 22 in
2010. Should the committee select the Milk stamp next year, it would not be
released until 2012 at the earliest. 'I think this proposed version of the stamp is a
wonderful representation of Harvey. It shows his charm and personality in his
face, and the rainbow colors for the USA, signify the LGBT movement,'
wrote Drent in an e-mail after being shown Leff's artwork. 'I would be
thrilled to submit this design to the Citizens' Stamp Advisory Committee when I
submit the letter to request this long deserved honor for Harvey Milk.' …This is the second time a push has been made to see
a Milk stamp be issued. In 2005 San Francisco's 11-member Board of Supervisors
unanimously passed a resolution calling on the postmaster general to issue a
Milk stamp."