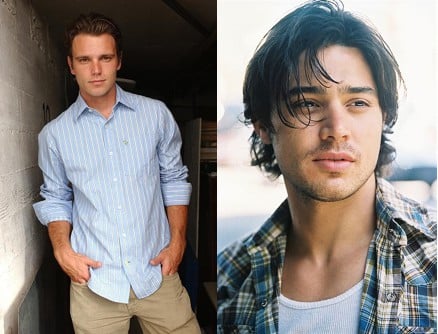 Scandalous news from the soap world. Actor Chris Engen (left) reportedly walked off the show because of a script in which his character was to kiss one played by Yani Gellman, according to The Suds Report:
"A few days after The Nelson Ratings finally
bought Chris Engen's uneven portrayal of Adam Newman, the newcomer
shocked the entire Y&R cast by quitting his role in the
middle of his contract two days ago! According to sources, Engen bolted
because, "he [allegedly] refused to kiss [his same-sex] co-star Yani
Gellman [Rafe]. Chris hasn't been happy for a while. He doesn't like
the dark direction his character is taking. He's called in sick a lot
recently and has been taking a slew of meetings with Y&R's [top brass] to discuss his future on the show. Chris is still under contract — and Y&R is seriously thinking of taking legal action." Meanwhile, the No. 1 soap is currently scrambling to recast the pivotal role."