The Pensacola News Journal reports that Florida Governor Charlie Crist, who is exposed as a gay man in the new documentary Outrage, will announce on Tuesday that he is running for the Senate:

"Gov. Charlie Crist plans to make his long-awaited political
announcement on Tuesday, probably setting off a Republican chain
reaction by jumping into the race for retiring U.S Sen. Mel Martinez's
job…For several months, Crist has refused to say whether he would seek
re-election or run for the Senate, insisting that he was solely 'focused on Florida' through the legislative session…With Crist running for the Senate, a scramble for the governor's
mansion is assured. The entire Cabinet is likely to run, thus opening
up statewide races for those posts."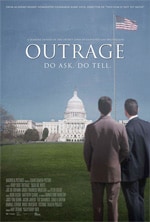 Crist is a major focus of Kirby Dick's new documentary Outrage, which exposes closeted politicians and their hypocritical voting records. The film shines an especially unflattering spotlight on Florida Governor Charlie Crist, devoting much of its time to the stories that have already been told
(by alternative press) about the governor, and his various
relationships with women which have fallen conveniently during campaign
periods. It also asks why mainstream media has refused to cover them. The
filmmakers attempted to talk to Kelly Heyniger (pictured, with Crist),
Crist's last girlfriend before marrying wife Carole Rome in the run-up
to McCain's VP pick. His relationship with Heyniger ended in 2007. The
filmmakers wanted to ask her about his sexuality. Heyniger told them: "I think I'll just keep my mouth shut…call me in 10 years and I'll tell you a story."
Outrage opened this weekend in San Francisco, West Hollywood, Philadelphia, New York, and Washington D.C..