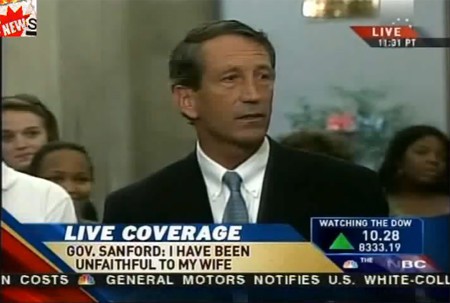 South Carolina Republican Governor Mark Sanford, a "family values" kind of guy who believes marriage should be between a man and a woman, admitted to an extramarital affair today after nearly a week of speculation as to his whereabouts.
Not only does Sanford oppose same-sex marriage, he also opposes civil unions as well as gay adoptions. Do you think Sanford's four kids missed him when he skipped out on them for Father's Day last weekend because he was cheating on mommy?
As little as two weeks ago, Sanford told Joe Scarborough that the Republican Party should not shift its views on same-sex marriage.
Watch both clips, AFTER THE JUMP…
In its coverage, FOX News identified Sanford as a Democrat: