A new report from the National Coalition of Anti-Violence Programs says bias-motivated incidents against LGBT people are the highest they've been in a decade. According to the group, 29 deaths last year resulted from anti-LGBT hate crimes, an increase of 28% from the year before: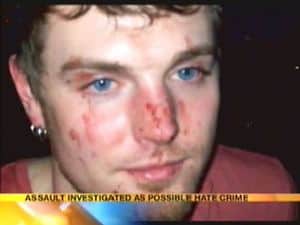 "[Executive Director Sharon] Stapel theorized that at least some of last year's violence was
backlash against issues that arose during the during the presidential
campaign. She cited debates about same-sex marriage, the military's 'don't ask, don't tell' policy, and federal legislation that would ban
employment discrimination based on sexual orientation and gender
identity as possible flash points. 'The more visibility there is the more likely we're going to see backlash, and that's exactly what we see here,' Stapel said. Overall,
the number of victims who reported anti-LGBT violence in 2008 increased
by two percent compared to 2007, said the New York-based coalition of
programs in 25 states."
Pictured, Ronnie Robertson, who was beaten by at least four people after being asked if he was gay, while socializing at Tabby's Bar and Grille in Maineville, Ohio, in late May.