Wockner: Gay tsunami slams Obama.

Schwarzenegger won't defend Prop 8 in federal court.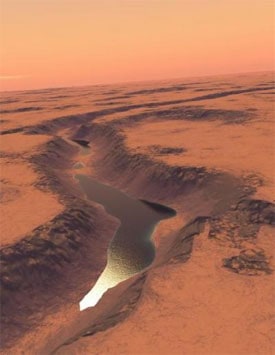 Definitive evidence of ancient lake on Mars discovered.

Prince Harry checks the equipment.

Wisconsin Senate approves domestic partnerships: "If domestic partnerships become law, Wisconsin would be the first state with an existing constitutional amendment banning both same-sex marriage and civil unions to provide domestic partnership protections for same-sex couples."

Neil Patrick Harris and David Burtka searching for surrogate mom.

Henry Cavill goes Upstreet.

Former U.S. Senator Lincoln Chafee (RI): Gay Marriage a question of fairness. "Gays and lesbians have contributed to the diverse fabric of Rhode
Island and the rest of the country for generations, strengthening our
communities in innumerable ways…Once you acknowledge that homosexuality exists
not by choice, the next obvious step is to grant gays and lesbians the
same liberties and freedoms as every other American."

David Archuleta's dad not so innocent.

Katie Couric makes gay fan's dream come true.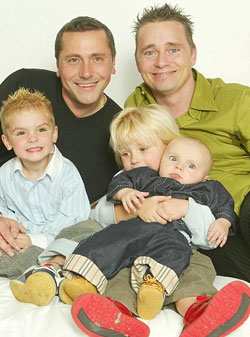 First gay couple to become fathers in the UK expecting fourth child: "Barrie and Tony Drewitt-Barlow sparked outrage when they used
donated eggs and surrogate mothers in the USA to have their
nine-year-old twins Aspen and Saffron and  five-year-old son Orlando. The
pair from Danbury in Essex, battled the American authorities to become
the first gay couple to have both their names on their children's birth
certificates. The millionaire couple revealed today that a surrogate mother is
carrying a fourth child for them, with the possibility of another twin
birth."

For the Nth time: T.R. Knight officially done with Grey's Anatomy.

Planet Out, Here Networks merge: "Here Networks on Wednesday completed a merger with the struggling
PlanetOut to create a new company called Here Media. Here employs 200 people in New York, San Francisco and Los Angeles.
It's a public company though not actively traded. PlanetOut
shareholders received 20% ownership in Here.
The merger preserves the remaining assets of PlanetOut, a once
high-flying Internet company that had struggled with losses and
debt as it ventured into offline businesses. Its shares once traded
for more than $100 apiece, but even an investment from a hedge fund
controlled by Bill Gates didn't save PlanetOut from slipping into
penny-stock status before Here swooped in to rescue it. When the
NASDAQ delisted the stock last week, it traded at 38 cents."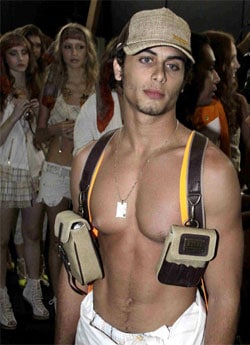 Jesus Luz does Sao Paulo fashion week.

Beijing queer film festival makes progress: "The biggest change is that I'm not the only one doing this. There's more support from the gay community. Society has become more
relaxed and open-minded in its thinking."

Guardian Film Review: Bruno. "There's an eye-popping montage of extreme gay sex practices (imaginary,
one hopes), a surfeit of waving penises, dildos, fetish gear, anal
bleaching, and an excruciating mime in which Brüno fellates the ghost
of a deceased member of Milli Vanilli in front of a psychic."

Washington Post book critic: gay books aren't being published anymore.

Brian Graden says good-bye to MTV: "For me, it's time to complement my television ambitions with some new
passions already in motion – the writing of two books, making music,
creating theater, speaking on subjects that matter to me, raising
alpacas…okay, perhaps not all calls will be heeded right away. I have
no idea if I possess any of these talents, but my friends who know me
well know that these new adventures have been tapping my shoulder for a
few years."