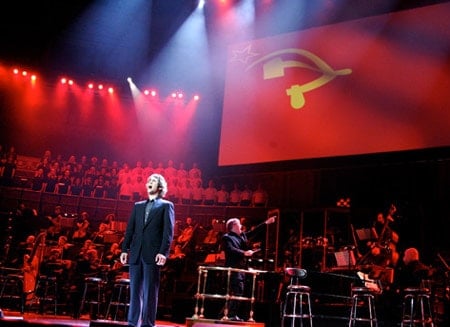 MODERN TONIC
The editors of Modern Tonic present a weekly music update here on Towleroad. The rest of the week, they scan the pop-culture landscape for movie, TV, book and Web recommendations in their daily email.

MUSIC NEWS:
Created by Tim Rice and the BBoys from ABBA (Björn Ulvaeus and Benny Andersson), Chess is one strange shape-shifter of a theatrical production. Since its 1984 concept album debut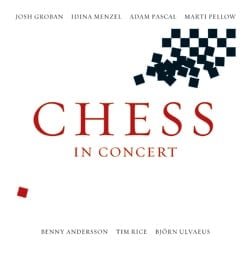 — featuring Murray Head's worldwide smash "One Night in Bangkok" and "I Know Him So Well," later covered by Whitney Houston and her mom — the show's gotten more facelifts than Joan Rivers. Opening to mixed reviews, the original 1986 London production ran for three years. The 1988 New York production — entirely reconceived — closed after two months. Subsequent stagings have mixed-and-matched the plotlines.
But there has long been a rabid following of fans, many of whom declare Rice's bastard stepchild to be one of the greatest pop-rock musicals of all time. Maybe it's the Machiavellian Cold War plotline. Or maybe it's the sweeping, non-stop ABBA-esque melodies. Whatever it is, you can see and hear it as it was meant to be in the new Chess in Concert, (out today on DVD and as a single- or double-CD; also airing tomorrow on PBS) which Rice calls the "official version" of the show, recorded live over two nights at London's Royal Albert Hall last May, and featuring an ace cast of Josh Groban (pictured above), Adam Pascal (Rent) and Idina Menzel (Wicked). Do we smell a Broadway revival? A boy can dream.

Hurricane warning: Grace Jones — in no danger of becoming the hardest working woman in show-biz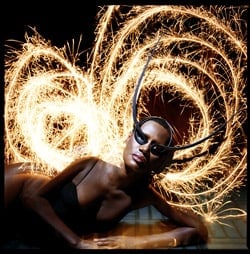 — is planning two U.S. shows in support of her latest album. July 27 at the Hollywood Bowl in Los Angeles, and July 30 at New York's more intimate Hammerstein Ballroom.

Stream Gossip's new album Music For Men (out digitally June 23, on CD October 6) in its entirety.

Members of New Order (Bernard Sumner, Stephen Morris and Phil Cunningham), joined by Blur's Alex James, have formed a new band, Bad Lieutenant. They have already completed work on their first album.

"It's a big, huge-sounding pop record that sonically references big records from the 80s or 90s": An extensive interview with Mika, whose debut album sold 6 million copies worldwide, touches on his forthcoming follow-up album as well as his childhood and adolescence, fame and, vaguely, his sexuality and past relationships. 

Moby, whose new album Wait For Me is out June 30, talks about his distaste for his seminal album, Play. 

Listen like thieves: An international scam involving a group of criminals who created music, sold it on Amazon and iTunes, and then bought $750,000 worth of it themselves using 1,500 stolen credit cards has ended with nine arrests. The "sales" of the music online resulted in the group pocketing $300,000 in royalties paid out by the music services.
Twenty-one-year-old Dubliner Laura Izibor is here to change the landscape of Irish soul for good with her  modern mesh of '70s soul and '00s hip-hop on Let the Truth Be Told, her expressive debut.
Miss Kittin — the French electro-clash artist — sees her debut collaboration with turntablist The Hacker, First Album, re-released today with one additional 2001 track, "The Beach." "Party in My Head" — from Two, their recent follow-up joint effort  — gets a remix workout from the Paris-based Thieves Like Us. DOWNLOAD IT HERE FOR FREE.
Our favorite Canadian crooner filmed his December '08 MSG gig last year for release on the CD/DVD combo-pack Michael Bublé Meets Madison Square Garden.
New releases also from: Spinal Tap — Back from the Dead; Trevor Horn and Friends — Slaves to the Rhythm (concert DVD); The Legends — Over and Over; Jonas Brothers — Lines, Vines and Trying Times.

MUSIC VIDEOS AND CLIPS:
PALOMA FAITH — "Stone Cold Sober"
This lively Spanish-English burlesque dancer/singer/actress (who appears in Heath Ledger's final film, The Imaginarium of Doctor Parnassus) is a red-hot harlot in a hoop skirt on her debut video. Single out today in the U.K., album there in the fall.
AQUA — "Back to the 80s"
The Barbie-loving Danes offer up a cheese-fest of awful 80's-ness that's so pungent it could just turn them into a two-hit wonder. From their "Greatest Hits" out this week in Europe (no U.S./U.K. release date announced yet).
LE KID — "Mercy Mercy"
The second sing-along single from these pop-crazy Swedes features the whitest people ever at a lakeside party in 50's swimwear.
KID BRITISH — "Our House Is Dadless"
More than just sampling, these multi-ethnic Manchester rappers re-boot Madness' jubilant hit with industrial grit for the new millennium.