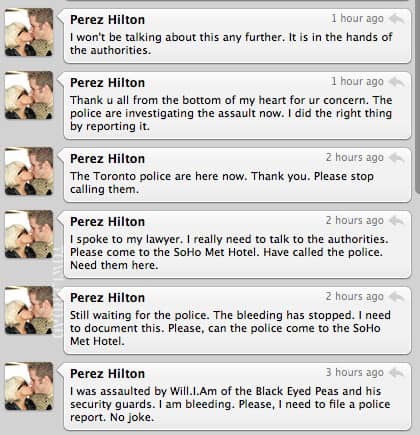 Following an after-party for Canada's MuchMusic awards, Perez Hilton unleashed a torrent of tweets claiming he had been assaulted by will.i.am of the Black Eyed Peas and his security detail, and was bleeding. The claim remains unverified.
Perez released a video statement on Monday.
 will.i.am responded to the accusations on video channel dipdive: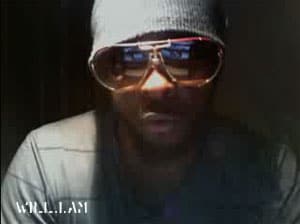 In his first video, will.i.am says Hilton disrespected Fergie, which led to a confrontation at an after-party.
"This dude walks away, I leave, and then [Hilton] says, 'You know that
was very faggot of you for coming at me like that'. I said, 'Yo dude, I
was just saying keep our name out of your mouth if you're going to be
disrespectful'. This dude says in front of a whole bunch of people and fans in Canada,
'You're a f*ggot, will.i.am'. Right, I'm like, 'Wow dude, wow, whatever'. He walks away and then one of the fans goes a little crazy and like
starts some stuff with Perez Hilton. I'm sitting minding my own
business waiting for a car, but it goes to show you how crazy things
can get. It's not that serious, it's all music and opinions. People make a career from opinions, which is cool, but don't be
disrespectful about it. And fans don't get all crazy about it. That's
all I got to say today. Tonight was a good night but it ended quite
crazy."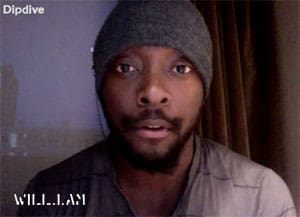 In the second video, will.i.am goes over the incident again:
"I told y'all what happened. This dude twists it and says I assaulted him when I was the one who came to him with respect and he was the one that called me a "faggot" outside the club. Whatever. I hit you Perez? Come on, dude. I didn't hit you. I told you that I didn't like the fact that you disrespected us. It's cool to have your opinion but dude, apparently you were bleeding outside the club. I was like next to you by a tree waiting for my car. Instead of calling the police you twitted that I assaulted you. Sounds like somebody wants mad attention and is not really concerned about his health. I didn't hit you and this is very wrong that you are twitting that I did that, once again disrespecting me and everything that I stand for. And they're lies. And that's wrong. Shame on you. Shame on your behavior. And that's just messed up. Peace."