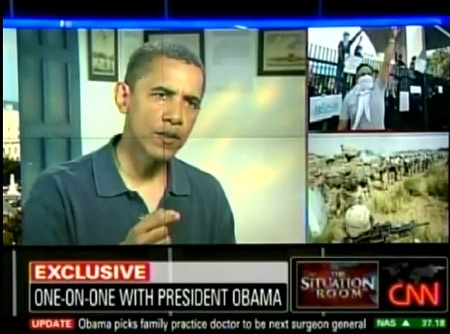 Anderson Cooper pressed President Obama on his wishes regarding the military's "Don't Ask, Don't Tell" policy in an interview broadcast over the weekend on CNN.
Said Obama: "Look, I've had conversations with Bob Gates as well as Admiral Mullen about the factthat I want to see this law change. I also want to make sure that weare not simply ignoring a congressional law. If Congress passes a lawthat is constitutionally valid, then it's not appropriate for theExecutive Branch simply to say we will not enforce a law. It is ourduty to enforce laws. I do think that there is the possibility that we change how the law is being enforced even as we are pursuing a shift in congressional policy. But look, the bottom line is, I want to see this changed, and we've already contacted congressional allies. I want tomake sure that it's changed in a way that ultimately works well for ourmilitary and for the outstanding gay and lesbian soldiers that are bothcurrently enlisted or would like to enlist…I'd like to see it done sooner rather than later. And we've begun a process to not only work it through Congress, but alsoto make sure that the Pentagon has thought through all theramifications of how this would be most effective."
It was also reported over the weekend that Senator Kirsten Gillibrand (D-NY) may be close to introducing a bill that would put a moratorium on military discharges under the policy.
Watch it, AFTER THE JUMP…