George Michael told the BBC he was "stone cold sober" during a car accident in which he rammed his Range Rover into the back of a truck in Berkshire, UK early Friday morning
The BBC reports: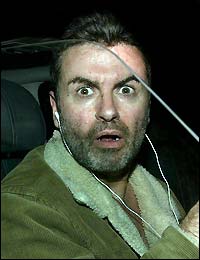 "He was questioned on suspicion of driving under the influence of drink or drugs, but released without charge a few hours later.
In a statement, Michael said he did not want his family and friends to 'worry'.
'Insurance fight'
Michael, who was back behind the wheel after completing a two-year driving ban, said: 'Neither of us was charged because we were both stone cold sober. We both think the other is to blame so this is just an insurance fight. I don't want my fans or my family worried by what they are reading all over again.'"
The truck driver's account paints a slightly different picture:  "Laurie Rowe, the driver, said the singer asked him if he'd stopped
to give Michael a lift moments after he crashed into the back the
articulated lorry. 'He seemed completely disorientated, like he had no idea what was going
on,' said Mr Rowe. 'He looked totally dazed and even tried to climb into the cab of my lorry. He kept saying he was worried he would go to jail.' … Mr Rowe, from Scotland, said he saw the silver Range Rover weaving
from one side of the road to the other in his rear view mirror moments
before the collision occurred. The impact of the crash was so great the lorry driver feared Michael was dead. Mr
Rowe told The Sun: 'I was driving at 45mph in the inside lane when I
saw a car come speeding up behind me, its lights on full beam. 'It must have been doing 100mph. It smashed into the back of my cab and I felt a hell of a thump.  'His
car went spinning across the outside lane and into the central barrier
before bouncing into my cab. He then hit the barrier again. … Eventually the guy got out of his car. He came over to my cab and asked if i had stopped to give him a lift. i was stunned. He
was absolutely not with it, so I told him no. But he insisted and came
around the other side of the truck and tried to get in the passenger
door. When it finally dawned on him that I wouldn't give in, he walked off down the verge. He was quite merry.'"
Image from one of Michael's prior violations behind the wheel.