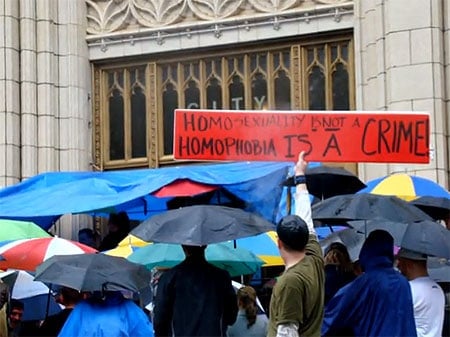 (images southern voice)
UPDATED

Between 60 and 100 people showed up in the pouring rain Saturday at Atlanta City Hall to protest a September 10th police raid on the Atlanta Eagle gay bar in which 62 patrons were forced to lie on the floor by two dozen policeofficers for two hours, illegally searched, and subjected to homophobicverbal abuse.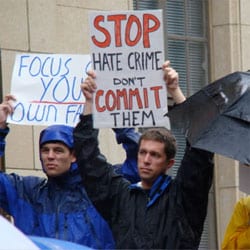 "With a makeshift cover of a large tarp for speakers to standunder as the rain poured down for nearly an hour, citizens demanded answersfrom the police department, elected officials as well as Mayor ShirleyFranklin, who has remained silent on the issue since the raid…"
The Atlanta Journal Constitution reports: "Saturday's crowd suspected homophobia drove the police, and the demonstrators said they would continue to exert political pressure — especially during the mayoral election. 'Get rid of Pennington,' shouted David Zecca, 46, of Midtown. 'Crime is going up, and they're more concerned with what is going on in a nightclub.' Patti Ellis, the mother of two sons, one who is gay, said she was mortified when she heard about the raid. 'This is not about the Eagle,' she told the crowd. 'I live in Midtown. I can't even walk down the street to a restaurant anymore. There is something very sick happening here.' As she praised the Atlanta Police Department for the tough jobs they have, Ellis said there is a lot of investigating that needs to take place."
Scenes and six speeches from the protest, AFTER THE JUMP…
UPDATE: GLBT-ATL's Todd Vierling on the low turn-out…
Previously…
Complaints Reveal Sick Treatment of Gays During Atlanta Bar Raid [tr]
Atlanta City Council Hears from 20 Upset Over Eagle Bar Raid [tr]
City Council to Hear Grievances Over Atlanta Eagle Police Raid [tr]
Atlanta Police Chief Says Sexual Activity Prompted Gay Bar Raid [tr]
Hundreds Turn Out to Protest Raid on Atlanta Eagle Gay Bar [tr]
Report: Staff, Patrons Arrested in Raid of Atlanta Eagle Bar [tr]
Executive Director of Georgia Equality Jeff Graham, and Officer Dani Lee Harris, the LGBT Liaison for the Atlanta Police Dept:
Protest organizer Laura Gentle-Guerry, and President of the Atlanta Executive Network Justin Zeigler:
Columnist, author and TV personality Mike Alvear, and Grant Park resident Brad Ploegar: