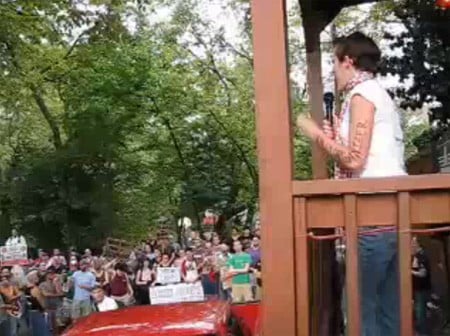 Atlanta Eagle supporters plan to attend a City Council meeting tonight to voice their outrage over last Thursday's raid at the popular gay bar. Also, "Monday, bar supporters filed complains with the Atlanta policeprofessional standards office — setting off a formal investigationinto last Thursday's raid."
Yesterday, Atlanta Police Chief said in a press conference that sexual activity prompted the raid, although that doesn't explain why patrons and staff were forced onto a dirty, beer-soaked floor for two hours while they were illegally searched and subjected to homophobic verbal abuse.
There is some new video of Sunday's protest outside the Eagle featuring more of the speakers who were present. I've posted it, AFTER THE JUMP…
Earlier video is here.