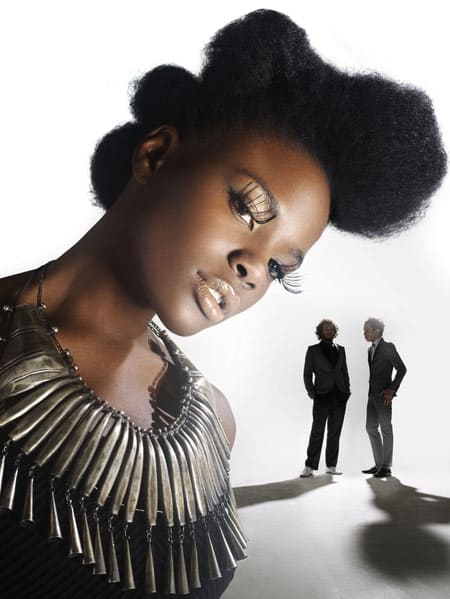 The editors of Modern Tonic present a weekly music update here on Towleroad. The rest of the week, they scan the pop culture landscape for movie, TV, book and Web recommendations in their daily email.

TODAY'S NEW RELEASES AND FREE DOWNLOADS: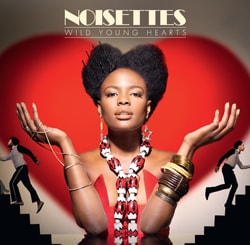 The U.K. trio Noisettes roared onto the scene in 2007 with a rough alt-rock sound and a weapon of mass destruction: front-woman Shingai Shoniwa, who paces a stage like the bastard love child of PJ Harvey and Karen O. Now, the raw and punky blues of their debut What's the Time Mr. Wolf? has been replaced on their second album, Wild Young Hearts, with radio-ready hooks and opulent production, but the uncompromising attitude remains. The title track — like Blondie overdosing on emo — refuses to nurse a broken heart. "Don't Upset the Rhythm" is erotic disco in which Shoniwa warns her partner not to break the rush towards her oncoming orgasm. And "Never Forget You" is Winehouse Motown with less retro and extra booze — the vocal a sexy slur of post-coital bliss.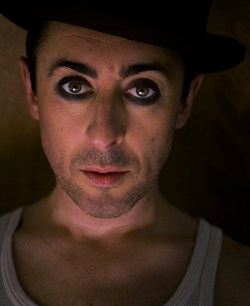 The beauty of Tony Award®-winning actor Alan Cumming's debut I Bought a Blue Car Today is he acknowledges his roots in the theater with some choice musical selections and he keeps his pop moves on the dramatic end of the spectrum. The musical standouts here are the Scot's melodramatic Hedwig and the Angry Inch medley "Wig in a Box/Wicked Little Town" and the marvelous weltschmerz of Cabaret's "Mein Herr." As for pop, there's a music hall take on Dolly Parton's "Here You Come Again" and a dirty little balled called "Beautiful" that might light up a quiet night at your local piano bar. Sample lyric: "f**king beautiful, f**king wonderful, f**king paradise." We can hear the amateur tenors now! Here's a FREE DOWNLOAD of Cumming's cover of one of Frank Sinatra's signature songs, "That's Life."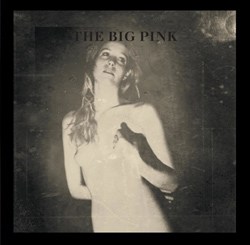 The London duo The Big Pink have nothing to do with their seeming namesake, The Band's Music from Big Pink. (We're betting "the big pink" is a lot more, um, genital for these boys.) On their debut A Brief History of Love, Robbie Furze and Milo Cordell layer swaths of "shoegaze" guitar over minor-key drones for the children of the rave culture. "Tonight" features hip-hop rhythms while guitars rage in the background. "Dominos" (FREE DOWNLOAD HERE) — which might be one of the year's best singles — is like a great lost "Madchester" classic (Chapterhouse's "Pearl," anyone?). And "Love in Vain" is the Gothic ballad The Cure have been trying to write since '89. The songs take time to sort out, because the m.o. is dense, echo-y soundscapes with lyrics buried in the mix. But give it three plays and it will unfold more than its share of sonic charms.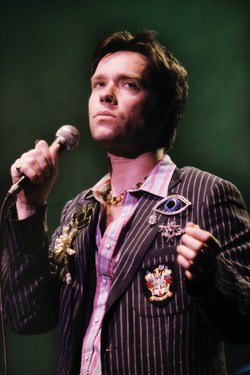 Another live album from Rufus Wainwright? The Judy drag is gone for Milwaukee at Last!!! featuring the gay messiah doling out concert favorites of his own material, including a swinging "Release the Stars." Also on DVD, and in a CD/DVD combo pack. WE HAVE FIVE DELUXE COMBO PACKS TO GIVE AWAY TO TOWLEROAD READERS, JUST CLICK HERE TO ENTER.
Old Wobbly Head is back! (Hey, that's what the UK press call him.) David Gray releases Draw the Line, his eighth album of soulful new folk.
Michael Holbrook Penniman — Mika to you — follows up Life in Cartoon Motion with more big pop hooks from Planet Freddie Mercury on The Boy Who Knew Too Much. FREE DOWNLOAD HERE: Mika's brand new single "Blame It On The Girls."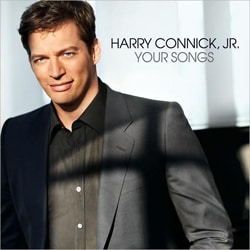 Also released: La Roux — La Roux and Basement Jaxx — Scars (both digitally only this week); Harry Connick, Jr. — Your Songs; Various Artists — NOW! That's What I Call Club Hits; Brand New — Daisy; Spiral Beach — The Only Really Thing; Lisa Germano — Magic Neighbor; Various Artists — Hotel Costes, Volume 12 (Import); Monsters of Folk — Monsters of Folk; Yoko Ono Plastic Ono Band — Between My Head and the Sky; Richard Hawley — True Love's Gutter; plus singles from Alicia Keys ("Doesn't Mean Anything") and Carrie Underwood ("Cowboy Casanova").

 MUSIC NEWS: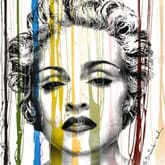 A candid feature interview with Madonna in her London mansion. So detailed you can practically smell the Christian Dior scented candles.

Sony Pictures is planning more than 25 premieres around the world for Michael Jackson's "This Is It" with most to be held on October 27, the night before the film opens internationally. Also, on the night of the 27th, "advance screenings" will be held in about 2,000 U.S. theaters. Earlier this week documentary footage of Jackson singing "Human Nature" just days before his death was released.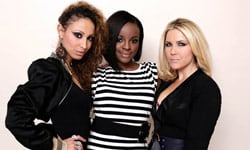 With the news that the last founding member of Britain's ever-evolving pop act Sugababes has left, fans wonder if a band with no original members is still the same band it always was. Here's a look at other acts with revolving doors.

The real people behind some iconic album cover images.

 MUSIC VIDEOS:
Jamie T: "Chaka Demus" (Lyrics NSFW)
From his sophomore album Kings & Queens, this snappy rap-ska tune shows the Wimbledon songwriter Jamie T chased by car through the English countryside by Arabs, Ninjas and — most frighteningly — mimes. 
Alphabeat: "The Spell"
A performance clip of the title track of their forthcoming album is more happy pop from a gang of photogenic Danes that can barely contain their joy. You won't be able to, either.
Muse: "Uprising"
This slammy glammy slice of Muse muscle from The Resistance is set in a post-apocalyptic world populated by strange dolls and evil bears on fire. Oh, and stuff blows up real good.
The Sounds: "Come On Bring That Beatbox Back"
Swedish new wavers pay homage to the art of beatboxing by splitting the frame in quarters and letting the mouth-music rip.