Washington state to appeal judge's ruling keeping names of donors to R-71 private.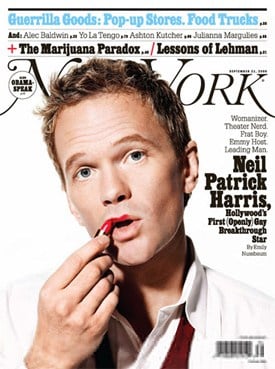 Neil Patrick Harris touches up New York magazine.
Ed Westwick wants Zac Efron's body.
Eye-popping: Hundreds of thousands expected to report they are same-sex spouses in 2010 Census.
NYT: Pass ENDA. "People who believe in workplace fairness should lobby senators to get
on board. It is unacceptable that in a nation committed to equality
people can still be fired in more than half the states for being gay."
Taylor Swift speaks out about Kanye West incident: "Well, I was standing on stage because I was really excited because I had just won the award. And then I was really excited because Kanye West was on stage. And then I wasn't so excited anymore after that…"
Egale Canada, a gay rights group, writes to Jason Kenney, minister of citizenship, immigration and multiculturalism, asking that eight homophobic dancehall singers be barred entry to Canada.
Madonna and Janet Jackson pay tribute to MJ at the VMAs.
$1 million offered for trove of stolen Warhol works in L.A.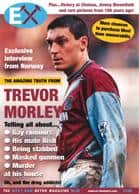 UK footballer Trevor Morley says gay rumors nearly ruined his career: "The rumours about me being gay killed me for a while. I've got nothing against gays – I now have friends who are gay – but it's not nice to be called a homosexual when you aren't one. How many times does Robbie Williams have to come out and tell the world he isn't gay. The more you say it, the more people start to believe it's true… It ruined my football for a while. I'd go out onto the field and hide. I didn't want to be there."
Values to guide Republican Bob Vander Plaats Iowa gubernatorial campaign: "Marriage is one man, one woman, period."
Charles Darwin film can't find U.S. distributor.
David Beckham adjusts himself.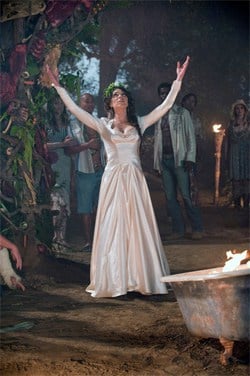 True Blood: What's coming next season – spoilers…
Matt Damon was responsible for the Venice Film Festival gay stripper-gram George Clooney received, and Clooney says he's out for revenge.
Inside New York's new Boom Boom Room.
Big spending predicted in Michigan by bigots hoping to block Kalamazoo's anti-discrimination ordinance: "Gary Glenn, president of the American Family Association of Michigan,
says Hoadley is a hired political gun who has the ability to raise a
quarter-million dollars and deliver a cadre of national volunteers…"
Oscar buzz for…Mariah Carey movie?
Bud Light Lime is like anal sex, apparently.
Iran to allow transsexual marriage? "The woman, named only as Shaghayegh, told Tehran's family court she
wanted to marry a school friend who had recently had a sex-change
operation to become a man, but was unable to obtain her father's
blessing, as legally required. Her father was summoned to court and
agreed to the union on condition that the male partner, Ardashir, who
was previously a woman called Negar, underwent a medical examination to
prove it would be a proper male-female relationship."