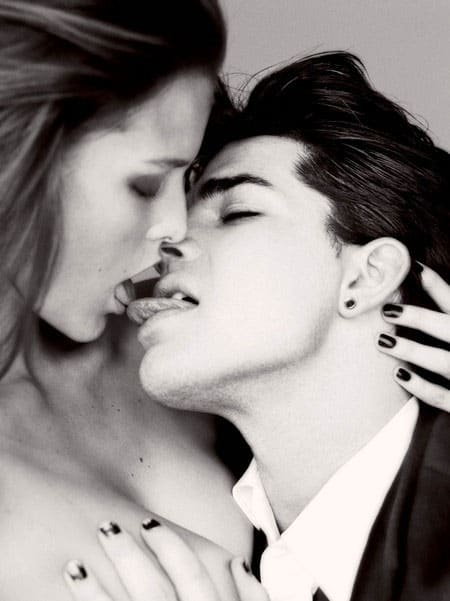 Adam Lambert's November Details cover shoot by Alexei Hay took a decidedly heterosexual twist. Slide show (some of it nsfw).
Writes Nancy Jo Sales in the cover story: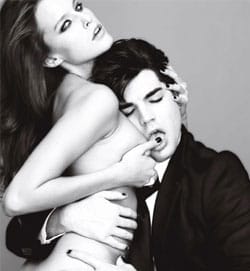 "Lambert's groupies on the Idols Live Tour follow him across thecountry, offering him clothes and books and jewelry—and they've triedto give him other things. 'There was one woman in Jersey who was actually gorgeous,'says Lambert. 'She had obviously had a couple of cocktails, and duringan after–show meet–and–greet, she just slithered up next to me andstarted kissing my neck. I was cool with it. But then it started to geta little weird because she was, like, moaning. Shegave me a note that said, 'I want to make out with you, here's mynumber,' and I was like, wow, this is crazy. But again, it's cool.Because yeah, I am gay, but I like kissing women sometimes. Women arepretty. It doesn't mean I'm necessarily sleeping with them. 'Of course, had I been the one drinking the cocktails,' he adds, 'I probably would have made out with her.' He says it wouldn't matter to his 24–year–old boyfriend, whom hewon't discuss except to say that he's 'Cajun' and has 'swagger.' ('Ilike 'em smaller and younger,' Lambert says mischievously.) He smiles. 'I don't see how all this is any different than—let'stake a modern sex symbol like Brad Pitt. How many of these women whofantasize about him actually get to sleep with him?' he asks. 'It's allfantasy—that's what entertainment is. I'm here to entertain you, and ifmy sexuality is apparent and you respond to it, and you're attracted toit, then great, I'm doing my job. It ain't happening anyway!'"
Watch the behind-the-scenes video, AFTER THE JUMP…