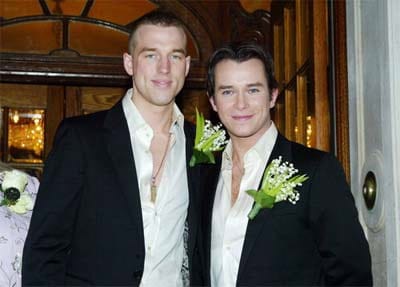 Stephen Gately (right), a member of the British boyband Boyzone, has been found dead in a hotel room in Majorca while on vacation. He was 33:
"A close friend said it appeared Stephen died after going out in Majorca, where he was on holiday.
'It looks like he went out for a few drinks, then got back, fell asleep and never woke up,' the pal said. Early this morning Boyzone manager Louis Walsh told us: 'We're all absolutely devastated. I'm in complete shock. I was only with him on Monday at an awards ceremony. We don't know much about what's happened yet.' …All four remaining members of Boyzone – who recently reunited – will be flying to Palma, Majorca tomorrow.
Boyzone star Shane Lynch said: 'Me and the boys are flying out in the morning.  We just need to get over to where he's passed and work out what we need to do.'"
The details behind Gately's death have not emerged. He is survived by Andy Cowles (above, left), whom he married in a civil partnership in 2006. Cowles was featured with Gately in the band's video for "Better" in 2008.