Jordan Hunter, an openly gay senior at Geneva High School in Illinois, has filed a complaint against Dave Burk, a teacher at the school who made an offensive remark to his students while discussing the National Endowment for the Arts.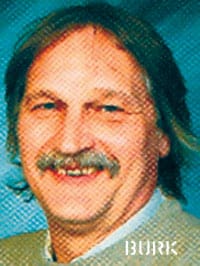 Said Burk to the students: "How would you feel about your tax dollars going to pay some black fag in New York to take pictures of other black fags?"
The Geneva Sun reports: "Burk's attorney, D.J. Tegeler, said Monday he was not personally aware of the terms Burk used to his classes, but that Burk apologizes for any offense. 'Mr. Burk is cooperating fully with both the principal, the dean of students and the School Board,' Tegeler said. 'Mr. Burk's biggest problem is he does not want to intentionally offend anybody and if he did, he apologizes.'
Tegeler said Burk will abide by any punishment the district picks. 'We have no intention of fighting anything,' Tegeler said.
Hunter, who reported Burk to the administration immediately after class, wants Burk fired. 'If he wants to talk about a poor place to put our tax dollars, I think his salary is a poor place to put our tax dollars,' Hunter said."
Burk has been a teacher for 28 years, according to the paper. He made the same remark to all his classes on October 5.
Said fellow student Michael Sunderman: "I don't want to assume anything. (The teacher)
is older, and maybe he doesn't have a prejudice. Maybe it's just a poor
choice of words."
The Chicago Tribune reports: "Hunter was placed in another class and told by school officials that
the accused teacher was not allowed to teach last week after the
complaint was filed, Hunter said.Hunter and his mother, Kelly, met with the principal Friday. The
Hunters say they were told that the school board is expected to make a
decision about what action, if any, to take against the teacher at a
school board meeting Tuesday. School officials declined to comment
further."