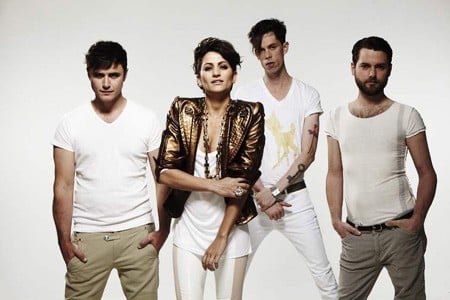 MODERN TONIC
The editors of Modern Tonic present a weekly music update here on Towleroad. The rest of the week, they scan the pop culture landscape for movie, TV, book and Web recommendations in their daily email.



FEATURED ARTISTS AND FREE DOWNLOADS: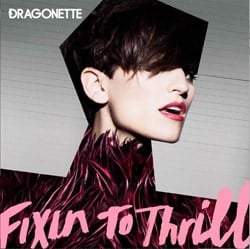 Canadian quartet Dragonette are snotty emo electro-punks. And by that we mean that on their second release Fixin to Thrill they wield their synths and scratchy funk guitar and bippity-boppity bass for crunchy musical nuggets of New Wave-inspired rudeness. The cooing Karen O-esque siren Martina Sobrara does have a nasty way with words. "When you wake up I'm gonna punch you out" from "Stupid Grin" is nearly a love lyric from her wicked tongue, with "Get on the floor, don't make a fuss, just do it" her idea of foreplay. And we'd much rather hear her defend a family member's Las Vegas wedding in "Pick Up the Phone" (FREE DOWNLOAD OF RICHARD X RADIO MIX HERE) or slap a brother down in "Liar" than listen to another guy-whiner in guyliner.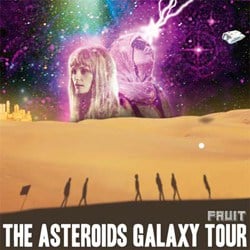 Here's a group to add to your short list of cold-climate European bohemians: The Asteroids Galaxy Tour from Denmark. Fruit, their debut, is a languorous stroll through what XTC once called "funk pop-a-roll." Producer and multi-instrumentalist Lars Iversen keeps the bright tunes fresh and sparkling. And singer Mette Lindberg's like a drunk, precocious 5-year-old, slurring through up-tempo R&B ("The Sun Ain't Shining No More") (FREE DOWNLOAD HERE) and happy '60s pop ("Sunshine Coolin'") with the same wide-eyed enthusiasm.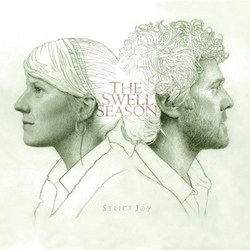 So, you star in an indie Irish film about falling in love, you write songs in character for the film, and then, while the cameras are rolling, you actually fall in love. And for your efforts you get what? If you're The Swell Season — Glen Hansard and Markéta Irglová — you win an Academy Award® for Best Song from Once ("Falling Slowly") and an appreciative new audience. Then, while touring the world, you break up under the strain of your newfound success and re-emerge on the other side of fame with Strict Joy, the best work of your career. The Swell Season's soft-spoken drama thrives on contradiction. And a fresh split is the mother lode of inspiration — from the mystical Van Morrison soul flourishes of opener "Low Rising" to the spiritual Grateful Dead folk of "Love That Conquers" these are honest, scathing, beautiful songs that would bring Oscar® gold to any film. 

Tweetie bird: Elizabeth Taylor took to her Twitter page and unleashed
an avalanche of tweets (we're having so much fun picturing her doing
this) raving about Michael Jackson's This Is It, which opens worldwide tonight.
She calls it "the single most brilliant piece of filmmaking I have ever
seen" and that it should be "nominated in every category conceivable."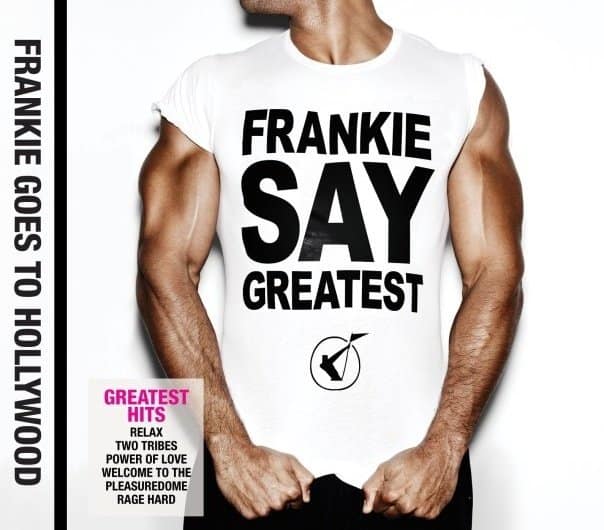 Frankie Say Relax: Holly Johnson talks about the internal strife that destructed Frankie Goes To Hollywood. Frankie Say Greatest, a collection of hits, rare b-sides and covers — plus the sexiest album cover we've seen this year — will be released in the U.K. next week.

Tegan & Sara's Sara Quin on the music that inspired her.

Imogen Heap's low-key cover of Michael Jackson's "Thriller."

Tickets to 15 U.S. dates of Taylor Swift's 2010 Fearless Tour sold out within 15 minutes of going on sale; the four New York dates were sold out in two minutes.

La Roux's Elly Jackson is suffering from lung problems.

MORE NEW RELEASES:
Dolly Parton finally has the record to complement her big hair, big boobs and big talent — Dolly, a four disc box set retrospective of the self-proclaimed Backwoods Barbie from her early country hits ("Jolene") to her pop crossovers ("Here You Come Again").
R.E.M.'s Live at the Olympia — recorded in 2007 from five nights in Dublin in prep for Accelerate — is a welcome addition to their catalogue, with old favorites from the dawn of alt-rock ("Wolves, Lower") to songs still-in-progress ("Houston").
All of 29 now, indie-rock twins Tegan and Sara have thrilled audiences since '99. Their latest, Sainthood, is harder-edged than their last release, The Con, with bigger hooks and much heavier guitar.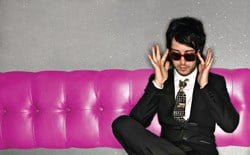 She's a megastar now, but Lady Gaga didn't do it by herself. Her collaborator Space Cowboy is sure to follow in his employer's footsteps with the club crazy Digital Rock Star, featuring "I Came 2 Party."
Also released: Michael Jackson — This Is It; Taylor Swift — Fearless (Platinum Edition); Pink Martini — Splendor in the Grass; U2 — The Unforgettable Fire (Super Deluxe Edition); P!nk — Funhouse Tour — Live in Australia; Weird Al Yankovic — The Essential Weird Al Yankovic; Sting — If On a Winter's Night…; Wolfmother — Cosmic Egg; Creed — Full Circle; Jack Johnson — En Concert; Train — Save Me, San Francisco; Brian McKnight — Evolution of a Man; Morningwood — Diamonds and Studs; Melissa Etheridge — A New Thought for Christmas (CD/DVD)

MUSIC VIDEOS:
Marina & the Diamonds: "Mowgli's Road"
Welsh-born Marina Diamandis is part woman, part construction paper creature with super-flexibility on this jaunty single from her forthcoming debut Family Jewels.
Groove Armada: "I Won't Kneel"
From their forthcoming 2010 release Black Light, the English electro duo offer a mid-tempo I-want-you-back-but-I-ain't-begging crowd-pleaser, featuring the 80s-licious vocals of a Groove Armada discovery, Saint Savior.
Cinema Bizarre & Space Cowboy: "I Came 2 Party"
Lady Gaga collaborator Space Cowboy teams with German New Wave revivalists Cinema Bizarre for a freaky costume party that gets stranger by the second. Just in time to inspire your Halloween get-ups!
N'dambi: "Can't Hardly Wait"
Erykah Badu, watch your 'fro, 'cause Dallas-born N'dambi's here to re-fire the neo-soul revival. In this clip, N'dambi strings along two gorgeous men at a photo shoot before leaving with the photographer.