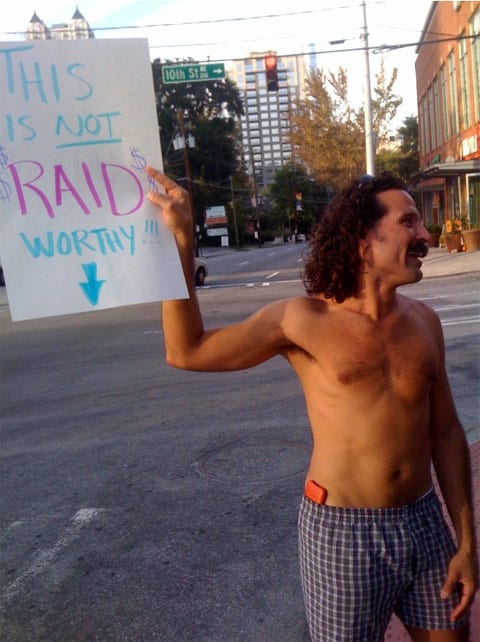 (image  jim burress pba online)
Between six and ten people attended a protest at the corner of 10th street and Piedmont in Atlanta yesterday to demonstrate lingering anger over the September 10th raid on the Atlanta Eagle gay bar. Most wore visible underwear, some only underwear.
PBA Online reports: "Dressed in a T-shirt and boxer
shorts on the corner of 10th & Piedmont, Laura Gentle says she's in
her underwear to remind passers-by of what happened on September 10th
at the Atlanta Eagle: 'The number one thing is they didn't find
any sexual activity and they didn't find any drugs. People still seem
to not know that they only arrested people on license and permit
charges that had to do with underwear, essentially.'"
The Southern Voice reports: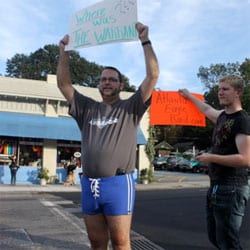 "Eagle co-owner Robby Kelley, holding a sign that read,
"Where was the warrant?" said awareness of the raid need to continue. Kelley
was one of the eight arrested and faces a Nov. 3 arraignment date in Municipal
Court. The case is being prosecuted by the Solicitor's office and a plea
agreement is attempting to be reached before Nov. 3. If one is not reached, the
employees will go to trial in January. 'We need to keep the focus on this so it doesn't happen
again,' Kelley said, wearing an Atlanta Eagle t-shirt and blue swim trunks. Business has been hampered as well by the raid, he
acknowledged, because people are afraid to come into the bar thinking it might
be raided again by the APD. 'It's kind of understandable, but they have to understand
they didn't have the right to come in the first time and they are not going to
come in again,' he said. Kelley also said his charge of not having a license for
go-go dancers who were wearing attire to what he was wearing on the street was 'absurd.' … 'I think it's stupid that you need an adult entertainment
license to have people dance on your bar in their underwear … it would be
different if I was having people naked on the bar,' he said."
Image below: Atlanta Journal Constitution.