A group of 145 Roman Catholic, evangelical, and Orthodox Christian leaders will present a document today at the National Press Club in Washington D.C. today saying they are in solidarity against abortions and same-sex marriage.
The NYT reports: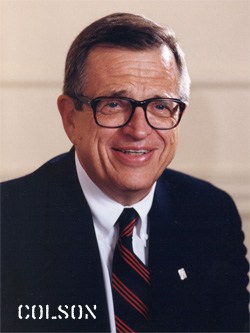 "The manifesto, to be released on Friday at the National Press Club in Washington, is an effort to rejuvenate the political alliance of conservative Catholics and evangelicals that dominated the religious debate during the administration of President George W. Bush. The signers include nine Roman Catholic archbishops and the primate of the Orthodox Church in America.
They want to signal to the Obama administration and to Congress that they are still a formidable force that will not compromise on abortion, stem-cell research or gay marriage. They hope to influence current debates over health care reform, the same-sex marriage bill in Washington, D.C., and the Employment Non-Discrimination Act, which would prohibit discrimination based on sexual orientation."
The document was reportedly written by evangelical Charles Colson, Catholic Princeton professor Robert P. George, and the Rev. Timothy George of Beeson Divinity School in Alabama.
Part of the goal is to reach younger Christians who may have more progressive notions about gays and remind them that the church thinks gays are bad.
The 4,700-word document is called the "Manhattan Declaration: A Call of Christian Conscience," according to the NYT.
Says the document: "We will not comply with any edict that purports to compel our
institutions to participate in abortions, embryo-destructive research,
assisted suicide and euthanasia,
or any other antilife act; nor will we bend to any rule purporting to
force us to bless immoral sexual partnerships, treat them as marriages
or the equivalent…We pledge to each other, and to our fellow believers, that no power on
earth, be it cultural or political, will intimidate us into silence or
acquiescence."