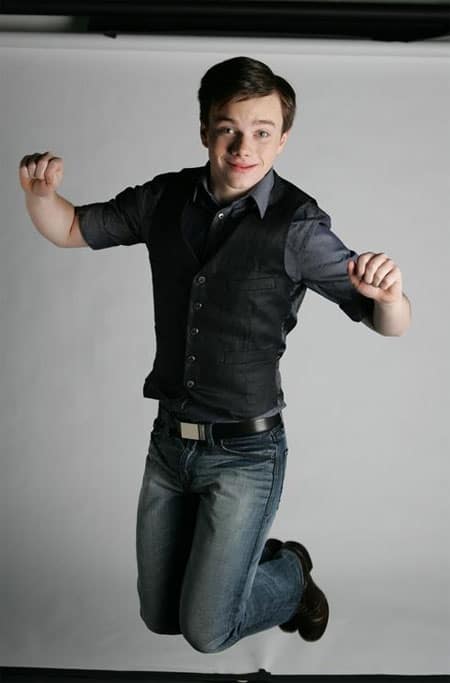 Chris Colfer, who plays the out gay Kurt Hummel on Glee, is apparently not so out in real life.
In an October interview with the Advocate, Colfer acknowledged he is gay:
Your character, Kurt, is the show's fashionista and a key member of New Beginnings. How similar was your high school experience in Clovis, Calif.?

It was similar in the sense that I was definitely teased a lot in high school and I was definitely at the bottom of the food chain: total underdog, complete "Gleek." I was never like Kurt at all; I wish I was now that I watch the show, but I was never fashionable. I wish I was like Kurt in high school! [Laughs]

Were you out in high school?

Oh, no. People are killed in my hometown for that.
But in a new interview with USA Today, Colfer says he won't discuss his sexuality:
"Playing an openly gay kid means fielding questions about his own sexuality, which Colfer doesn't address. 'I try to keep up a mystery. As much as I give
away of my personal life, the less people will believe me as other
characters. I try to be private about it. It is what it is,' Colfer
says with a shrug."
Maybe he was still in the closet in the Advocate interview? I'm not sure if he's ever said he was gay anywhere else. Whatever, the case, it's a shame Colfer feels he has to be coy about it, given his age and the role he's been given on the show.
And Kurt gets a storyline in tonight's episode:
"It's Kurt versus Rachel in the Glee Club's first 'diva-off"', after Kurt is told he can't perform 'Defying Gravity' because it's a 'girls'' song. Will this mean a much-needed end to the stories about how the Glee Club can't function without Rachel? Also, the Glee Club learns to look at the world from Artie's perspective when they travel a mile in his wheels."