UPDATED
Josh Meltzer, Communications Director at the Empire State Pride Agenda, will be updating Towleroad periodically over the next day or so from Albany with updates on what's happening with regard to the marriage equality vote. Governor David Paterson has called a special session for today, November 10, beginning at noon.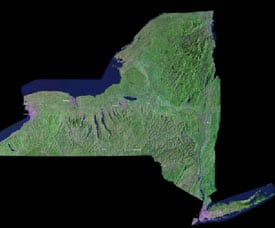 I'll be updating this post throughout the day with news related to the marriage vote, along with Josh's updates.
The NYT is reporting that the vote has been delayed:
"Republicans and Democrats said that as of Tuesday afternoon the
measure was still several votes short of the 32 necessary for approval.
About five Democrats remained either opposed or noncommittal, meaning
that Republican votes were needed to secure passage. But not
enough Republicans have committed yet to voting yes, legislators said.
The Democrats have a slim 32-30 majority in the Senate. It was
unclear when the Senate would take the issue up. Wednesday is Veteran's
Day and a holiday, meaning that it would be at least the end of the
week before they could vote on the bill. 'It sounds like today is just
not going to be the day,' said Senator Eric T. Schneiderman,
a Democrat from Manhattan who has been one of the same-sex marriage
bill's main proponents. 'There are a lot of us who want to see it voted
on and passed as soon as possible. So if today's not the day, I think
our views on the overall strategy don't change.'"
It's likely that a vote on marriage equality would follow a vote on the Deficit Reduction Plan (DRP), which will come up. How soon is anybody's guess.
*****
1:17pm
I've received word from Josh, who has been in and out of the Senate chamber, that it remains very important for people to keep the pressure on their senators to bring this bill to the floor for a vote.
While negotiations remain ongoing, and there have been reports that it may not come to the floor today, the situation is still fluid, and it will likely be a long day.
*****
The NYT yesterday published a profile on Senator Ruben Diaz Sr., who has two gay brothers and insists he is not a homophobe, yet is perhaps marriage equality's #1 foe in the NY legislature.
*****
Writes Josh from Albany:
 8:45 pm, 11/9/09

Reporters are increasingly talking about a vote tomorrow. This may
seem like a trivial fact, but when political reporters in Albany start
talking in definite terms about a vote, things are looking good. With a
supposedly controversial legislation like marriage equality, reporters
tend to doubt until the very end that legislative leaders will bring
the bill up for a vote. Only after talking to enough sources will they
start talking in terms of "when" instead of "if"

Important allies are beginning to weigh in significantly. Not only
did we release earlier today the names of 700 clergy from across the
state who are calling for passage of the marriage bill, Citizen Union—a
major good government group—and mayor Bloomberg have released
statements and letters tonight calling for a vote and advocating
passage in the Senate.

Jerry Nadler's Chief of Staff Amy Rutkin has taken personal time
to join us in the war room, as has and longtime political operative and
Vice Chair of the New York State Democratic Committee Emily Giske.

To be clear—some sort of action by the State Senate tomorrow is
required by law. Because Governor Paterson has put the bill on the
agenda, the Senate needs to actively choose whether or not to debate
and vote on the bill. Not taking up the bill would send a strong
message to LGBT New Yorkers that the Senate does not feel that our
families are worthy of at minimum debating our lives, and therefore
unacceptable.
Note from Andy — The National Organization for Marriage has threatened GOP New York senators that it will fund a primary challenge against any senator who votes for marriage equality:
"Following up on its successful campaign to defeat Dede Scozzafava in
NY-23, The National Organization for Marriage's (NOM) Executive
Director Brian Brown announced plans to build a $500,000 war chest to
fund a primary challenge to any Republican senator who votes for gay
marriage – regardless of the outcome of Tuesday's vote in the State
Senate. 'There is no Republican Senate district in New York where the majority
of people support gay marriage. Maine has made that very clear,' said
Brian Brown. 'The GOP should learn from Dede Scozzafava's experience:
voting for gay marriage does not pay.'"
Earlier…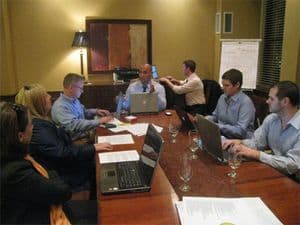 Josh Meltzer, 5:30 pm 11/9/09, from Albany:
We're set up in the executive suite of an Albany hotel. The room is buzzing as the group of about 15 gets ready to watch Gov. Paterson's address of the joint session of the NYS Legislature. This will be the nerve center of the campaign in the hours leading up to the vote, and we'll be working around the clock to make sure that a) the marriage bill goes to the Senate floor for a debate and a vote and b) that the bill passes when the vote comes.

Here's what we know right now:

The bill is on the Governor's extraordinary session agenda tomorrow. The session, which has been called primarily to address the state's budget deficit, is right now scheduled to begin at noon tomorrow.

In his speech, Governor Paterson noted that "justice delayed is justice denied." And, to applause, asked the Senate to take up and pass legislation "this week."

Several Senators have written letters to Senate leadership calling for a vote tomorrow. These Senators—Craig Johnson, Dan Squadron, Eric Schneiderman, Velmanette Montgomery, Jeff Klein, Liz Krueger, Eric Adams, Kevin Parker, Diane Savino and Jose Serrano—are all sponsors of the bill (in addition to 9 others) and are continuing to work with us to make sure we get the needed votes.

The most important thing that people can do to support lobbying activities is to call their State Senators. Hearing that constituents support marriage equality on the eve of a potential vote can make all the difference. You can believe that the anti-marriage forces are doing it, and we need to make sure that we're doing it even more. Get your friends and family—LGBT or straight—to call their Senators, too. You can leave a message in less than a minute. It's easy and it's incredibly effective.

Democratic Senator Diane Savino told the Times today that she believes that there's a 70 % chance that the marriage bill will come to the floor for a vote tomorrow. If you know anything about Albany, you know that this is a very promising statement.

Republican Minority Leader Dean Skelos has stated several times now that he will allow his conference to vote their conscience. Every piece of LGBT civil rights legislation has passed because of Democrat AND Republican votes. We expect that this time will be no different.