Murder music singer Buju Banton has been jailed in Miami: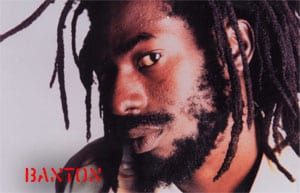 "Drug Enforcement Administration agents say Banton, real name Mark Anthony Myrie, has been in custody since Thursday and will soon be transferred to Tampa, where the U.S. Attorney is charging him with conspiracy to possess with intent to distribute more than five kilos of cocaine.
Banton has homes both in Jamaica and Tamarac.
While legions of dancehall reggae enthusiasts view Banton as one of the most prolific voices of Jamaica's poor masses, critics say he's a gay basher whose lyrics incite violence by calling for attacking and torturing homosexuals.
His song 'Boom Bye Bye', a dancehall hit released in the 1990s, advocates shooting gays in the head and setting them on fire."
Numerous dates on Banton's recent tour were canceled after protest over the singer's anti-gay lyrics. In October, a group of activists from San Francisco sat down with Banton in an attempt to get the singer to understand what the anger was about, but the summit appeared to do little good, with Banton declaring shortly thereafter, "This is a fight, and as I said in one of my songs 'there is no end to
the war between me and faggot' and it's clear. The same night after I
met with them (gay associates), they pepper-sprayed the concert. So
what are you trying to tell me? I owe dem nothing, they don't owe I nothing."
Banton's recent nomination for a Grammy has also sparked an outcry, with GLAAD, Gay Men of African Descent (GMAD) and the National Black Justice Coalition (NBJC), joining a petition drive against The Recording Academy.