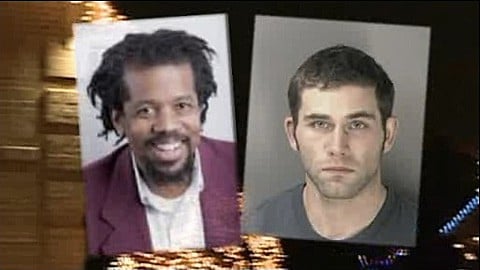 Gay Indiana University professor and author Don Belton (left) was stabbed to death in his home by Michael Griffin, a decorated Marine who claims Belton sexually assaulted and raped him in front of his girlfriend while they were intoxicated. Belton was reportedly stabbed by Griffin two days later when the Marine went to confront the professor. Police are searching for the girlfriend, who apparently left town.
Belton is the author of Almost Midnight, a novel, and the anthology Speak My Name.
Michael J. Griffin, 25, of Bloomington told police he visitedDon Belton on Sunday to confront the 53-year-old assistantprofessor of English over two alleged assaults, the probable causeaffidavit said.An argument and scuffle ensued. Griffin told police he stabbedBelton with a 10-inch military style knife after Belton failed to"show or express any type of feeling that what had taken place wasa mistake," the affidavit said.

Griffin was being held without bond Tuesday in the Monroe CountyJail on a charge of murder. An initial court hearing was set forWednesday.

A friend who came to Belton's home in Bloomington on Mondayfound his body in the kitchen, authorities said. Police who werecalled to the scene found both doors unlocked and no signs offorced entry. Nothing was missing, said police Lt. David Drake.Drake said Belton was stabbed "at least five or six" times inthe back and several times in the front of the torso.

The affidavit said police found Belton's journal, whichcontained an entry saying that he was "very happy" that someonenamed Michael had entered his life. Police later received a callfrom Griffin's girlfriend saying she thought her boyfriend might beinvolved in the slaying.

Officers who searched Griffin's home Monday night found theknife believed to have been used in the killing, Drake said. Theaffidavit said Griffin had bought the knife before serving as aMarine in Iraq.
Watch FOX 59's report, AFTER THE JUMP…