Andrew Grande, a 23-year-old Panama City Beach, Florida man (known in gay adult film circles as Dustin Michaels) died after choking on bags of marijuana he had ingested during a police arrest in which he was tasered.
WJHG reports: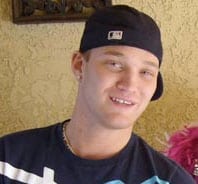 "Just after 2AM Friday deputies responded to a disturbance call at the Executive Inn on front beach road. They say Grande pushed a female friend. A camera crew from Zoo Productions filmed what happened when deputies arrived. When one of the deputies tried to arrest him they say he resisted and stuffed something in his mouth. That's when at least one of the deputies shot him with a taser. They say he pulled the taser probes out of his body, that's when deputies noticed he was choking.Deputies performed the Hiemlich maneuver but could not dislodge the item. By the time EMS arrived, he was unconscious. One of the paramedics pulled a large bag of marijuana from his throat. He was pronounced dead at Bay Medical Center."
There's disturbing police video of the incident. Watch it, AFTER THE JUMP…
More on Michaels' work in the adult film business here – site NSFW.