A trial began yesterday for Neo-Nazi John Allen Ditullio, Jr. for crimes committed in 2006: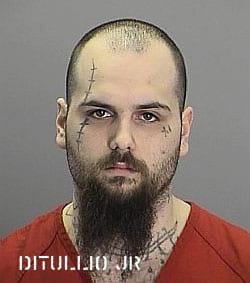 "Prosecutors allege that Ditullio broke into his neighbor's home and stabbed two people — injuring 44-year-old Patricia Wells, the home's owner, and killing Kristofer King, a 17-year-old visitor and friend of Wells' son.Wells lived next door to a mobile home that was commonly known as 'the Nazi compound,' which had large swastika flags flying on the property, authorities said. Ditullio was arrested at the mobile home after a SWAT standoff.Authorities called the stabbings a hate crime, and Wells agreed, previously telling local media that she believed Ditullio attacked her because she had a black friend — and because her own son was gay and Ditullio may have mistaken King for her son."
The jury won't see Ditullio Jr. as he appears in this photo, however, the AP reports:
"A judge has ruled that the state must pay a cosmetologist up to $150 a day during Ditullio's trial on murder and attempted murder charges and apply makeup to cover up the black ink.Judge Michael Andrews, acting on a request by Ditullio's lawyer, ruled that the tattoos are potentially offensive and could influence a jury's opinion in the state's death penalty case against the 23-year-old accused of donning a gas mask, breaking into a neighbor's home and stabbing two people, killing one of them."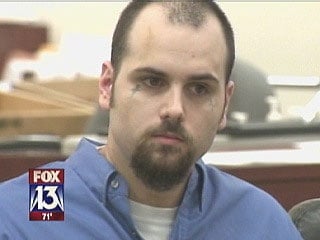 More: "Ditullio doesn't have the money to pay to have the tattoos covered up, said his public defender, Bjorn Brunvand, who was worried that a jury might be biased against his client on the basis of the tattoos alone.' Whenever someone is facing the death penalty, they should get a fair trial,' Brunvand said. 'The jury can judge this case on the facts and the law and not base their decision on being offended.'Any tattoos Ditullio had before his arrest won't be covered, such as a small cross under his right eye. Earlier this week, he wore a neatly pressed blue shirt and gray slacks yet several tattoos on his hands and wrists were still visible.As is common with defendants on trial, Ditullio's appearance had been scrubbed clean: his hair was trimmed, and his unruly beard was cut into a neat goatee."
Taxpayers will foot the bill for the makeover. Testimony is underway. Videos, AFTER THE JUMP…