As reports emerge that Uganda's president has promised to veto the "kill the gays" bill, five GOP Congressman have spoken out against the legistlation: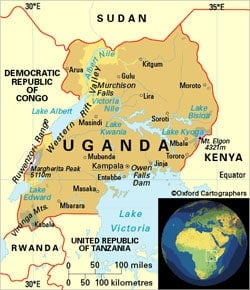 "Five Republican representatives – Chris Smith, Frank Wolf, Joe Pitts, Trent Franks and Anh 'Joseph' Cao – have written a letter to Ugandan President Yoweri Mouseveni pressing him to stop pending legislation that would severely criminalize homosexuality and sometimes impose the death penalty for homosexual acts.In the letter, which you can read in full here, the men say their religious faith requires them to oppose the legislation because it contradicts the 'foundational Christian belief in the inherent dignity and worth of all men and women.'"
The letter invokes the anti-gay Manhattan Declaration: "As Members of Congress and as men of faith, wesupport the principles set forth in the declaration and are thankfulfor the principled position of these faith leaders on a host of issues,from the sanctity of life for the unborn and others, to religiousfreedom, to human dignity, to the belief that marriage is aninstitution between one man and one woman."
More on the Manhattan Declaration, which hopes to influence current Congressional debates over health care reform, DOMA, and the Employment Non-Discrimination Act, as well as abortion and stem cell research, here.

Read the Reps' letter to Mouseveni, AFTER THE JUMP…
In related news, Wales said it will still be sending aid to Uganda despite the pending "kill the gays" bill.