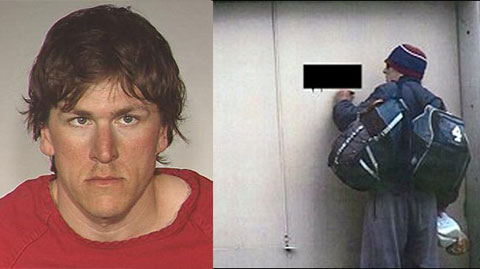 UPDATE: Cox arrested.
Police are looking for a man arrested last May for anti-gay graffiti in West Seattle because they believe he's responsible for a new spate of vandalism, KOMO reports:
"In just a six-block area on California Avenue SW, three sets of a homophobic slur were visible.
Police believe the graffiti is the work of 31-year-old Ryan J. Cox, a homeless man with mental issues.
Nick Wagner, who owns a nearby salon, believes it was Cox who spray-painted the word 'pedophile' on his store front window in black ink last Friday. Wagner guesses the man was 'angry, upset, frustrated' when he acted out. Cox was arrested in May for spray-painting the same gay slur on many businesses and a garage door. And it was that garage door that incriminated him.
The owner of the garage grew tired after being tagged seven different times. In hopes of catching the vandal, he installed a hidden camera across the street and snapped pictures of the artist in action.
Police believe the pictures show Cox spray-painting the slur.
"This is a hate crime, in my opinion," said the victim, who wished to remain anonymous."
Cox suffers from mental illness and police warn residents not to approach him.
Previously…
Gay Seattle Couple's Home Targeted with Graffiti: 'Faggots Rape Kids' [tr]