UPDATED: Full roll call vote, AFTER THE JUMP…
FINAL VOTE: The marriage equality bill was defeated 38-24, falling 8 votes short of a majority. A sad day. Marriage equality will come however. Stay strong. As Senator Perkins said, "It is inevitable."
And now the cards are on the table.
Earlier liveblogging and quotes from the debate below…
Here we go again (refresh for updates).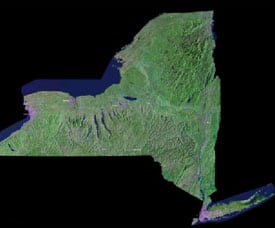 The New York Senate is expected to take up the marriage equality bill at some point today, following consideration and vote on a deficit reduction plan (DRP). The Assembly passed the DRP and the marriage equality bill (again) late last night (more on that here).
Debate begins— apologies if some of these quotes are note word-for-word accurate but this is on the fly…
– Sen. Diaz Sr. – Marriage equality vote is "treason."
– Sen. Schneiderman: "You cannot legislate morality, but you can legislate justice."
– Sen. Adams: "I have never been more nervous than I am today." Read off names of states that sold Blacks into slavery: "Because a numerical majority is in one place. It does not mean they are in the right place." … "You don't have to be gay to respect the rights of those who are."
– Sen. Klein: "We owe it to the entire gay community around New York to pass this legislation."
– Sen. Valesky: "That question for me gets to something that many of the speakers before me have indicated, that this is not a matter of religion. More importantly than that, it can't be a matter of religion."
– Sen. Parker: "We have an opportunity today to change our history. This is the time we strike a blow to one of the last inequalities…in our country."
– Sen. Espada tries to convince undecideds to vote YES: "If this vote were taken in my district today, same-sex marriage would fail…As it relates to today, undecided senators – let's write this headline for my 10th grandchild whose sonogram was sent to me yesterday – let's send a message of hope. Let's set forth a drumbeat of equal rights for all and let's not continue to be scared into ignorance."
– Sen. Savino: "I know many people are concerned about the destruction of the sanctity of marriage. What are we protecting when you look at the divorce rate in our society?"
– Sen. Krueger: "Some people think it's a hard vote. Why is it not hard for me? Because I'm a woman. And a Jew. And I know about discrimination. I don't understand how anyone can vote no."
– Sen. Montgomery: "I will only add that in my family, in my culture especially as it relates to my religion – I just want to remind my colleagues that it was considered if you were living together and not officially married, and this was in the olden days, that you were living in sin. So for those of you who wonder why we should support people being able to marry, we do not want them living in sin."
– Sen. Serrano: "History once again will prove this civil rights movement to be right and correct. No one should be subjugated to less rights than anyone else."
– Sen.Hassell-Thompson: "My oldest brother was gay. This is publicly, for the first time in my life that I've said that…I do know that because of his status those things he was supposed to be entitled to as a married couple he was not entitled to…This bill is about giving people the right to make the choice themselves…"
– Sen. Johnson: "Why not a civil union? That creates a separate but equal system. And it doesn't work. I think there's a time for us as a body to shine."
– Sen. Perkins: "More than half the people in this room would not be here at another point in time. Many of us have had the privilege of these movements which have made a difference. Get ready. Marriage equality is here. And it is inevitable."
– Sen. Oppenheimer:"Some people have said to me it diminishes their marriage. I don't understand that. Why would it diminish my marriage???"
– Sen. Stavinsky: "I can't stand here and oppose discrimination against Blacks, Jews, women, and  condone discrimination against gay people."
– Sen. Smith: "What's wrong is not knowing what the Bible says and retreating to it. The Bible does not say that same-sex marriage is wrong. The Bible talks about individuals and their understanding for each other. What's wrong is when you use the Bible for your own purposes. Please don't quote the Bible or refer to it if you are not clear what it really means…I believe that this is the day history is going to record that the NY Senate stood up and did what's right."
– Sen. Duane – marriage bill's lead sponsor: "I do not give up. I do not know how to. There's sort of a paradox about this. The time is never right for civil rights. The economy, wars. The troubles we've had here in the senate. It's never ever the right time. But the paradox is, it's always the time to be on the right side of history."
Tom Duane is stalling while the GOP Senators who aren't in the chamber are being strong-armed.
Debate is closed. Voting underway.
Watch the live Senate feed below: FLOOR CLOSED.
FULL ROLL CALL VOTE, AFTER THE JUMP…
FULL ROLL CALL
Eric Adams (D) — YES 
Joseph Addabbo (D) — NO
James Alesi (R) — NO
Darrel Aubertine (D) — NO
John Bonacic (R) — NO
Neil Breslin (D) — YES
John DeFrancisco (R) — NO
Ruben Diaz (D) — NO
Martin Malave Dilan (D) — YES
Tom Duane (D) — YES
Pedro Espada (D) — YES
Hugh Farley (R) — NO
John Flanagan (R) — NO
Brian Foley (D) — YES
Charles Fuschillo, Jr.  (R) — NO
Martin Golden (R) — NO
Joseph Griffo (R) — NO
Kemp Hannon (R) — NO
Ruth Hassell-Thompson (D) — YES
Shirley Huntley (D) — NO
Craig Johnson (D) — YES
Owen Johnson (R) — NO
Jeffrey Klein (D) — YES
Liz Krueger (D) — YES
Carl Kruger (D) — NO
Andrew Lanza (R) — NO
Bill Larkin (R) — NO
Kenneth LaValle (R) — NO
Vincent Leibell (R) — NO
Tom Libous (R) — NO
Elizabeth Little (R) — NO
Carl Marcellino (R) — NO
George Maziarz (R) — NO
Roy McDonald (R) — NO
Hiram Monserrate (D) — NO
Velmanette Montgomery (D) — YES
Thomas Morahan (R) — NO
Michael Nozzolio (R) — NO
George Onorato (D) — NO
Suzi Oppenheimer (D) — YES
Frank Padavan (R) — NO
Kevin Parker (D) — YES
Bill Perkins (D) — YES
Michael Ranzenhofer (R) — NO
Joseph Robach (R) — NO
Stephen Saland (R) — NO
John Sampson (D) — YES
Diane Savino (D) — YES
Eric Schneiderman (D) — YES
Jose Serrano (D) — YES
James Seward (R) — NO
Dean Skelos (R) — NO
Malcolm Smith (D) — YES
Daniel Squadron (D) — YES
William Stachowski (D) — NO
Toby Ann Stavisky (D) — YES
Andrea Stewart-Cousins (D) — YES
Antoine Thompson (D) — YES
David Valesky (D) — YES
Dale Volker (R) — NO
George Winner (R) — NO
Catherine Young (R) — NO