The executive director of New York advocacy organization Empire State Pride Agenda, is leaving to join the staff of Comptroller John Liu, reports Elizabeth Benjamin at the NY Daily News: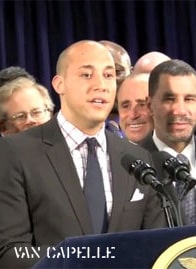 "Van Capelle is breaking the news this morning to the staff at ESPA,
where his seven-year tenure makes his the organization's longest-serving
executive director. He will be Liu's deputy comptroller for external
affairs, serving as a chief advisor on intergovernmental relations,
politics and communications. He will start his new job in early March. Van Capelle's departure comes almost two months after the LGBT
community suffered a significant setback in the fight for marriage when the
Senate defeated the measure, 24-38. ESPA has pledged
to continue the fight, and some have suggested bringing new blood
in to try to push the measure over the finish line might be a smart
move."
Said Van Capelle in a statement: "It has been an opportunity of a lifetime to work for the Empire State Pride Agenda over the past seven years. The amazing volunteer Boards, the talented staff, our many dedicated supporters, the statewide community and all of our allies, in elected office and elsewhere, have been a tremendous inspiration. I will always treasure that the Pride Agenda entrusted me with the responsibility to advance our community's agenda in New York and I look forward to supporting the Pride Agenda's work in the years ahead."