Anti-gay evangelical Northern Ireland MP Iris Robinson formally resigned yesterday: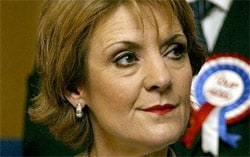 "Earlier today the Treasury in London confirmed that Mrs Robinson had stepped down from her role as a Westminster MP. She announced two weeks ago that she would be leaving public life for health reasons."
Since that time, it was revealed that she funneled cash to a 19-year-old man with whom she was having an affair, and also slept with the teen's father and another man.