Plans to attach the repeal of 'Don't Ask, Don't Tell' to a Defense Dept authorization bill are moving forward, the Huffington Post reports: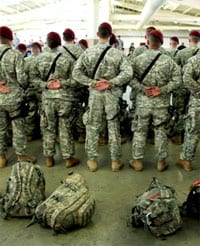 "In Congress, members are being whipped to ensure that the votes will be there for passage, should the legislation be placed in the bill. At this juncture, aides say, the prospects look good. Meanwhile, a source close to the White House says the president has instructed the Defense Department that he believes the repeal of DADT should be placed in the authorization bill.
However, disagreements could emerge when it comes to crafting the actual legislative language, over which Defense Secretary Robert Gates will wield his influence. And at this juncture, few of the offices working on the issue said they were willing to take passage as a fait accompli.' People have said publicly and privately that this is a good place for repeal to be placed,' said one Democratic aide on the Hill. 'It would be reasonable to expect that repeal might be in this year's defense authorization… But we aren't assuming anything yet.'
If repeal of DADT is added to the defense authorization bill, critics of the program will view it as a long-overdue move."
Now is the time. Americablog has some notes…