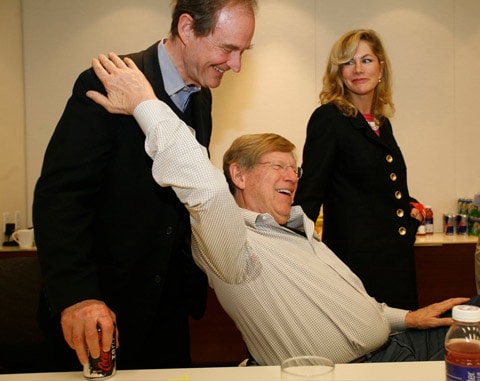 (photo  of David Boies, Ted Olson, and Lady Booth Olson, by Diane Walker)
According to Yuwef Robb of AFER, here's today's schedule:
"The
federal trial over the unconstitutionality of Proposition 8 will begin Monday,
January 11 with an opening statement by attorney Theodore Olson, who with David
Boies is leading the legal team assembled by the American Foundation for Equal
Rights to litigate the case, Perry v. Schwarzenegger. Opening statements will
be followed by testimony from Kris Perry, Sandy Stier, Paul Katami and Jeff
Zarrillo, who comprise two couples who wish to be married but who were denied
marriage licenses because of Proposition 8."
Here's some additional reading:

Kris Perry, on whose behalf the lawsuit was filed, talks about the case, along with more background.

Jenny Pizer, Senior Counsel and National Marriage Project Director for Lambda Legal, on why we should have optimism about the case.

There's also a huge piece in The New Yorker about the case.