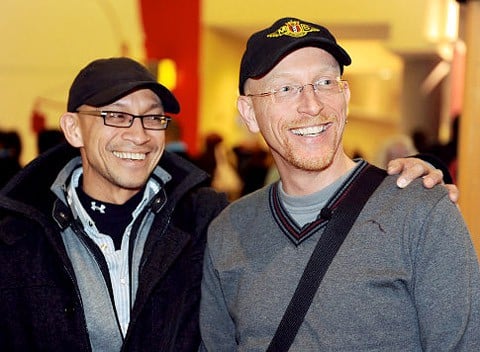 Clemens Ruland (right), with his partner Hugo Bausch, arrived at JFK airport yesterday from Amsterdam, the New York Daily News reports:
"A Dutchman's arrival in New York Thursday marked the first time in more than 22 years that an HIV-positive foreigner has entered the country without fear of being turned back because of his disease….Bausch, who is not HIV positive, won a free trip to New York offered by
the Dutch AIDS Foundation to commemorate Obama's lifting of the ban on
Tuesday."
Said Ruland: "I feel proud to be here without the need to hide my status. I also feel very humble. This is not about me, but about the thousands of others who were afraid to disclose their HIV status. [Ruland said he used to frequently travel to the U.S. before the ban, but had to lie] like everyone else. I know a lot of people who were deported when they got caught – deported for life. I had to put my medicine in different containers and put someone else's name on them, just in case I got caught."
Said Obama on signing the order to lift the ban in October: "Twenty-two years ago, in a decision rooted in fear rather than fact,
the United States instituted a travel ban on entry into the country for
people living with HIV/AIDS.  Now, we talk about reducing the stigma of
this disease — yet we've treated a visitor living with it as a
threat.  We lead the world when it comes to helping stem the AIDS
pandemic — yet we are one of only a dozen countries that still bar
people from HIV from entering our own country. If we want to be the global leader in combating HIV/AIDS, we need to
act like it.  And that's why, on Monday my administration will publish
a final rule that eliminates the travel ban effective just after the
New Year.  Congress and President Bush began this process last year,
and they ought to be commended for it.  We are finishing the job.  It's
a step that will encourage people to get tested and get treatment, it's
a step that will keep families together, and it's a step that will save
lives. "
Note: I reported on Monday that the couple was to arrive that day. In fact, they did not arrive till Thursday.
(photo nydn)