Justin Waller was returned to NYC from Vermont after being apprehended following the gruesome stabbing murder of his lover/roommate John Lea in NYC's Hell's Kitchen last week.
The NYDN reports: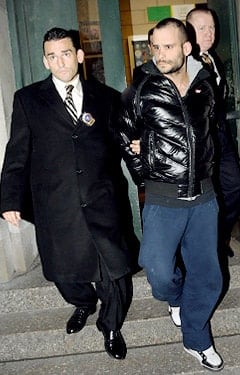 "Shortly before Justin Waller, 31, was arraigned, NYPD detectives led him out of the Midtown North Precinct station house in handcuffs.
Waller's beard was scruffy and his stare blank as the detectives stuffed him into an unmarked car and whisked him off to face a second-degree murder charge in the gruesome death of affable event planner John Lea, 41.
For Waller, Manhattan Criminal Court was a long way from the Green Mountains of southern Vermont, where he was nabbed last Friday after detectives followed purchases he had made with Lea's credit card.
Shockingly, the boneheaded accused killer used Lea's plastic to hire a pricey car service to shuttle him off to his hideaway in Manchester, Vt., where he had once lived, police said."
Waller faces a second degree murder charge and faces up to 25 years in prison if convicted. He is being held without bail and has another court appearance on Friday.
R.I.P. John Lea, whose Facebook page has seen an outpouring of love and remembrance over the past week.