Republican state senator Scott Brown has won the special election for Ted Kennedy's Senate seat in Massachusetts, beating Attorney General Martha Coakley and delivering a stinging blow to the Democratic majority and to President Barack Obama's agenda.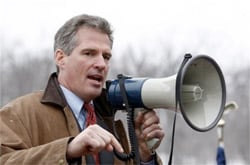 The Boston Globe reports: "The victory caps a dramatic surge in recent days as Brown, a state
lawmaker from Wrentham once thought to have little chance of beating a
popular attorney general, roared ahead of Coakley to become the first
Republican senator elected from Massachusetts since 1972. With 93 percent of precincts reporting, Brown had 52 percent and Coakley had 47 percent. In a race that became the center of national attention, Brown's win is
widely seen as a vote against the president's agenda from one of the
most reliably Democratic states. And in a particularly ironic twist,
Brown, in succeeding Edward M. Kennedy — the late liberal lion who
deemed health care "the cause of my life" — may well be the 41st vote
to prevent the Democratic-led plan from moving forward."
Coakley has called Brown to concede. The Democratic majority in the Senate falls to 59.