The State of Florida is appealing a ruling by Miami-Dade Circuit Judge Maria Sampedro-Iglesia allowing lesbian Vanessa Alenier and her partner to adopt one of Alenier's infant relatives the couple was caring for, the Miami Herald reports: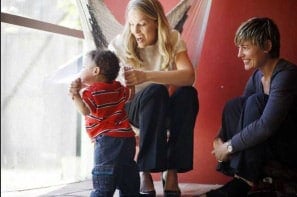 "Joe Follick, a spokesman for the Department of Children & Families, said his agency appealed the decision last month by Miami-Dade Circuit Judge Maria Sampedro-Iglesia to approve Vanessa Alenier's adoption of a relative taken into foster care shortly after his birth.
'Until there is a unified appellate court decision on this issue, we are bound by Florida statute to defend and adhere to the law,' Follick said.
An earlier adoption by a gay father from North Miami is pending before the Third District of Appeal in Miami. A decision is expected soon.
Alenier's attorney, Alan Mishael, who has handled two of the state's three successful adoptions by gay people, blasted the state for fighting the adoption.
'Instead of leaving this family alone, DCF wants to break it up and is spending taxpayer dollars trying to do so,' Mishael said."
Two judges, one in Miami,
and another
in Monroe County, have already declared the ban unconstitutional.
Anti-gay groups are battling those decisions.
You may have missed…
Crist
on Lifting Gay Adoption Ban:
'I'd Have to Think About It' [tr]
Judge
Who Struck Down Florida's Gay Adoption Ban Stripped of Post [tr]
Activists
Demand Gay Adoption, End to Discrimination in Florida [tr]
Florida
Lawmaker Files Bill to Repeal State's Gay Adoption Ban [tr]