GOProud's Jimmy LaSalvia at CPAC from sarahposner on Vimeo.
In related news, Andrew Sullivan has more goods on Sorba, including a conversation between Sorba and openly gay conservative Alex Knepper in which Sorba reveals more of his fixation on homosexuality, and a message about Sorba from another reader.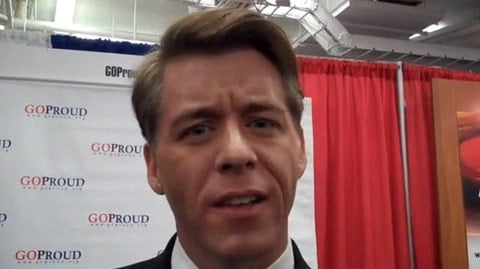 Gay Republican group GOProud certainly benefited from its presence at CPAC, attracting the attention of both CNN (which documented a friendly handshake between GOProud and the National Organization for Marriage – NOM) and of gay-hating Republican youth Ryan Sorba.
Writes Chris Geidner in an article about GOProud's involvement at the conservative confab:
"Despite the voiced concerns about whether GOProud 'works to undermine the mission' of Liberty University School of Law – or natural law or the military, for that matter – most CPAC attendees seemed to have the same supportive or indifferent about GOProud's involvement. GOProud officials and those passing by the booth on Saturday joked that the organization should send flowers to Sorba for raising the profile of the group – and in a very sympathetic way."
Following the CNN meeting, NOM issued a press release, warning the group not to try to elect "pro-marriage Republicans." GOProud's Jimmy LaSalvia, angry that the group couldn't deliver its message in person, fired back at the group with a Vimeo diatribe, asking "Who's the pansy at CPAC?"
Watch it, AFTER THE JUMP…